Bluer Plus(BLU-5) i3-style 3D Printer - TwoTrees
March Special Offers

Consumption condition
Benifit
Coupon
Over $200.0
$10 OFF
TT10
Over $500.0
$30 OFF
TT30
Over $1000.0
$80 OFF
TT80
* Please add machine and accessories to cart then apply discount coupon.
customers are viewing this product
Reliable Metal Design: This printer is mainly composed of 2040 aluminum extrusion and sheet metal base, which makes this large size printer stronger and less prone to deformation. The position of the base motherboard is designed with a skylight, which is convenient for viewing the motherboard and replacing the driver. The surface of the sheet metal base is painted, anti-scratch, anti-rust, and more beautiful. Auto-leveling system: Magnetic PEI print beds are also easy to use, thanks to the auto-leveling system built into the hot end. When the filament runs out, the extruder stops printing and sounds an alarm.
Quiet and Precise Printing: Our 3D printer uses a transparent double wheel extruder, 32-bit silent motherboard, synchronized dual Z-axis, and printing is more precise and quiet. Printing accuracy: ±0.1mm. 1.75mm printing material: PLA, ABS, PETG, TPU, wood, etc.
Smart Color Touch Screen: Our 3D printer uses a 4.3" color touch screen, which is much larger than other 3.5" screens. Sensitive and simple operation, easy to use. Do you have any other questions? Then please contact us.
Resume Printing: Our 3D printers can resume printing after a power outage or other unexpected downtime. Save time, material and effort. Large print size: 300 x 300 x 400 mm. Larger size models can be printed.
Two Trees BLU-5 is 3D Printing Machine with automatical bed leveling design and largest printing space of 300*300*400mm. It's 90% pre-assembled and only 6 screws required to complete installation. It's built with metal sheet material for durable and stable application. It's one of the best budget 3D printers in the market with outstanding performance comparable to commercial 3D printers.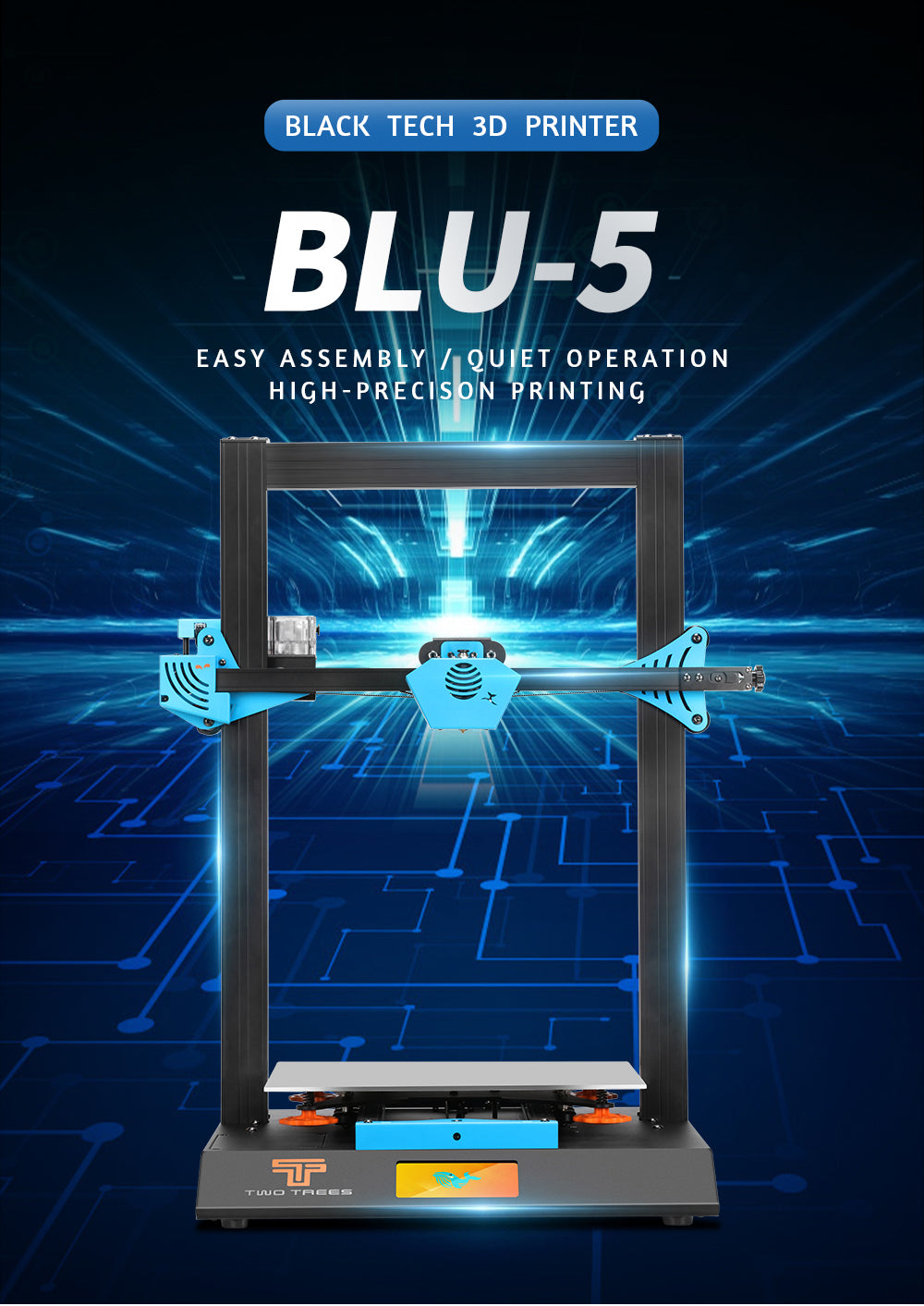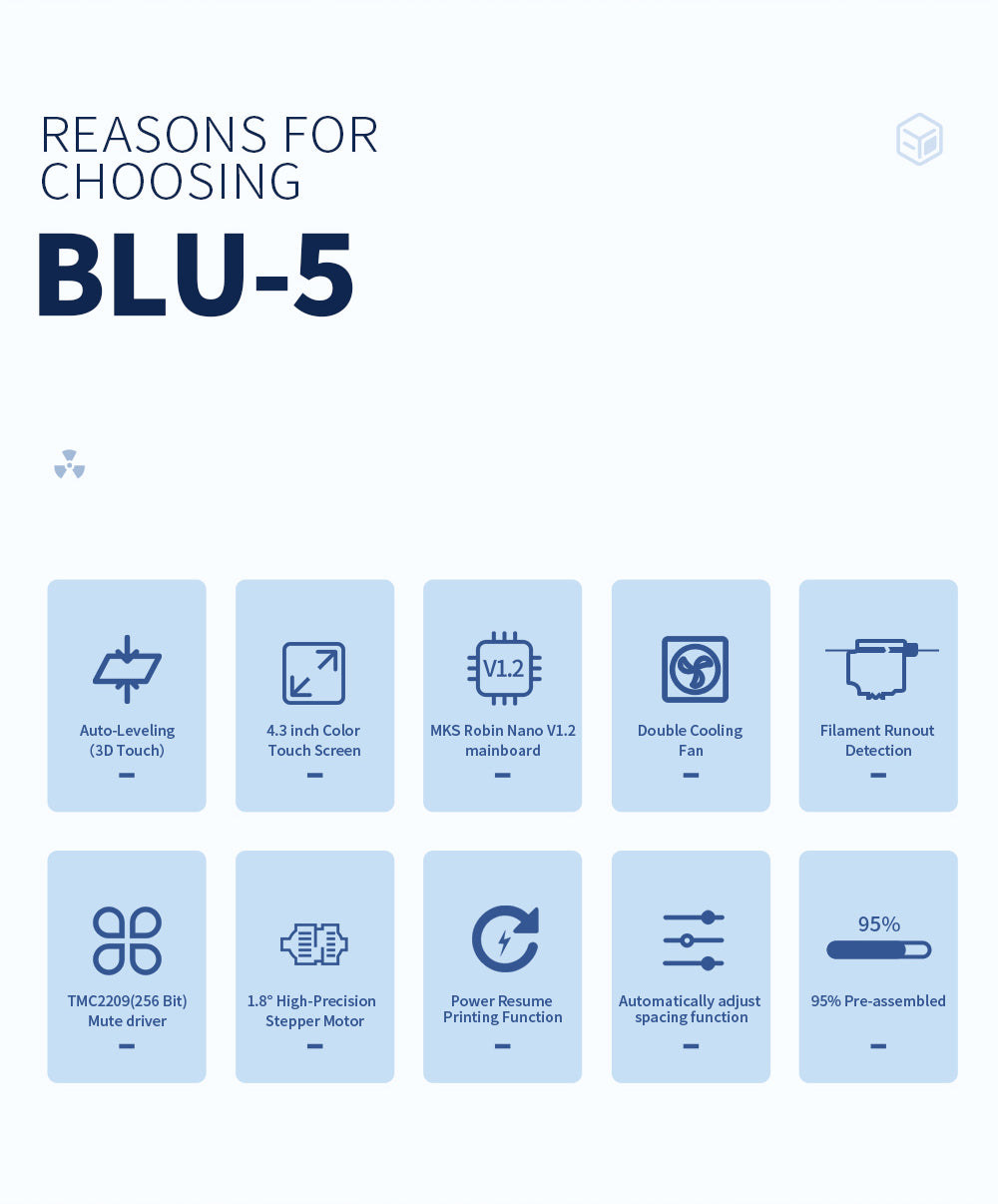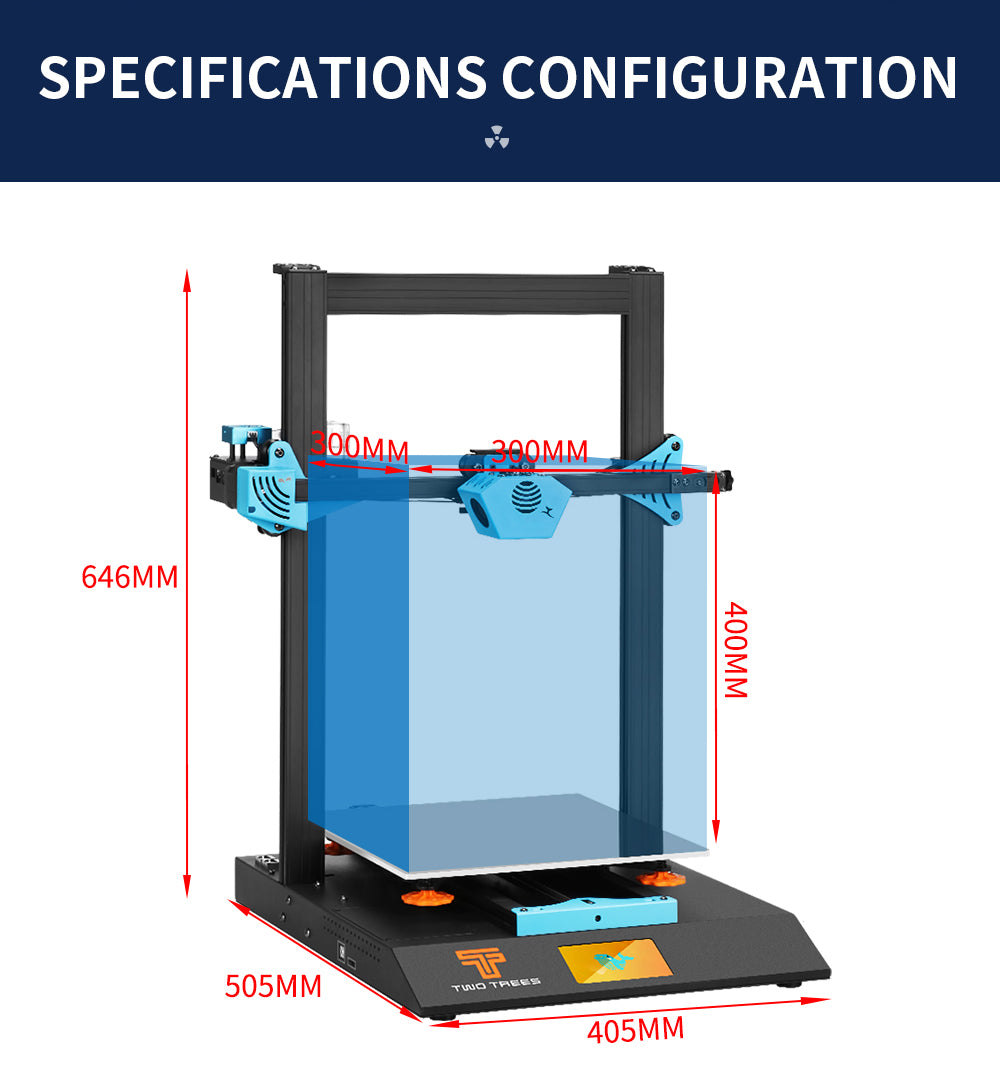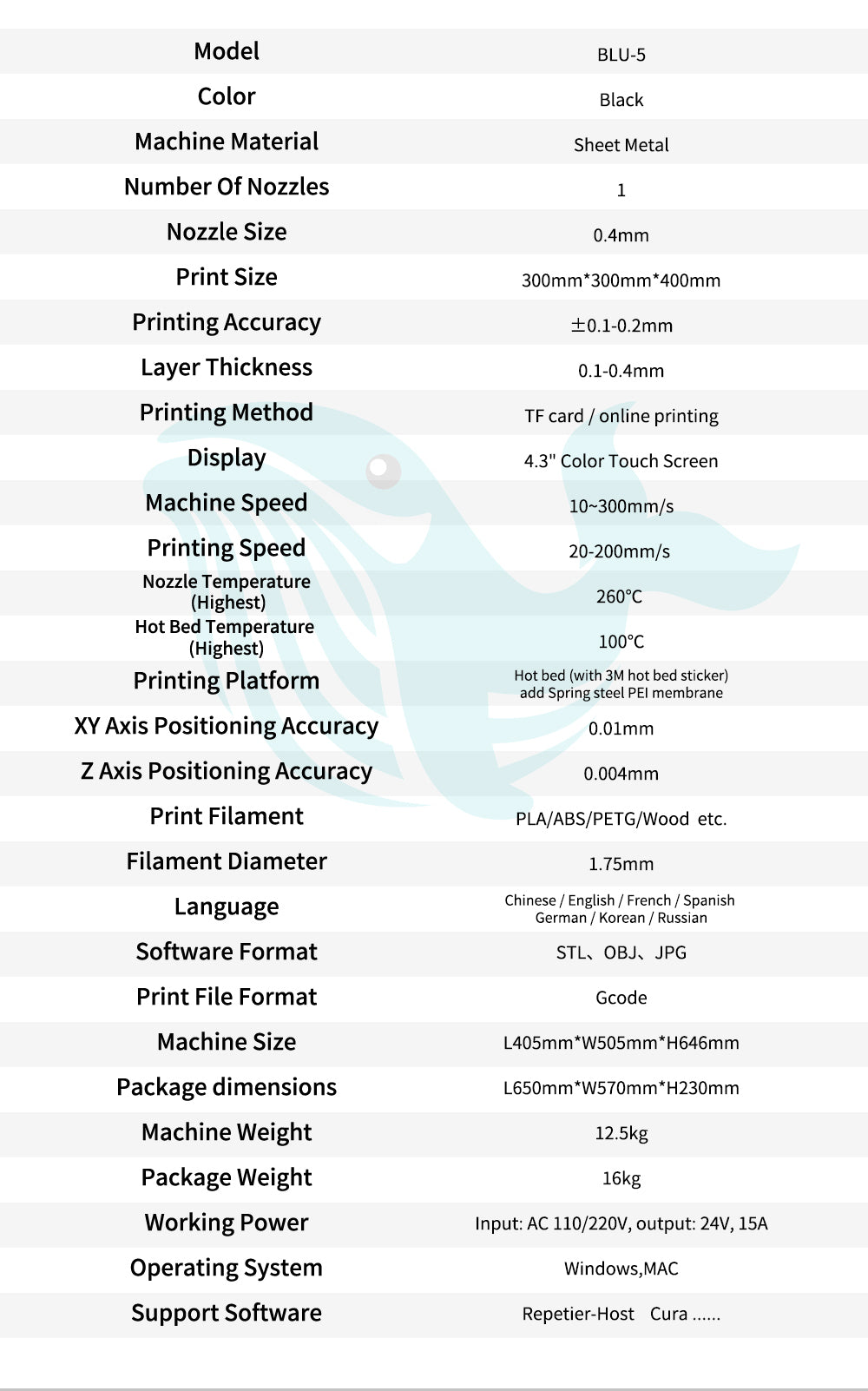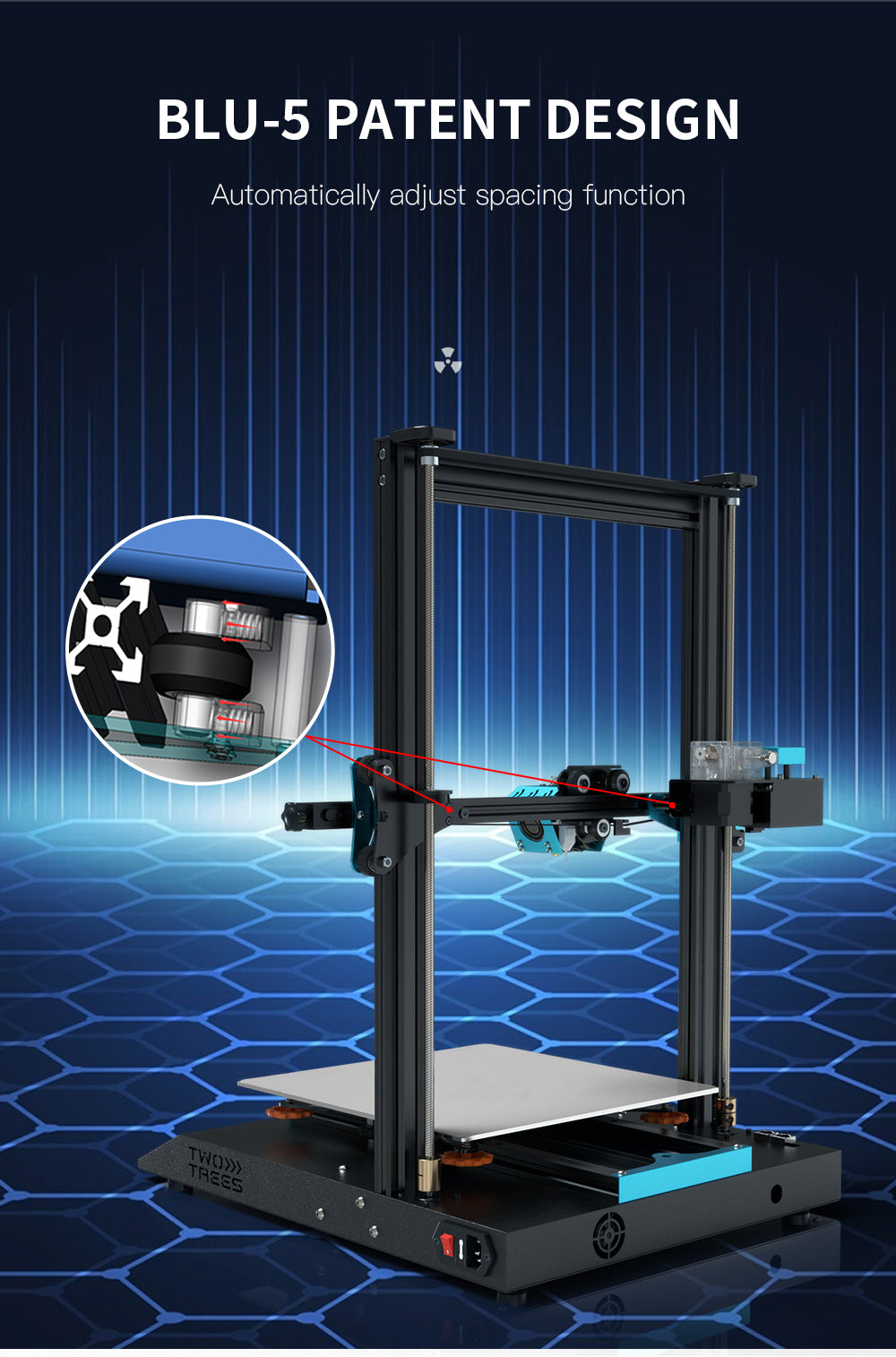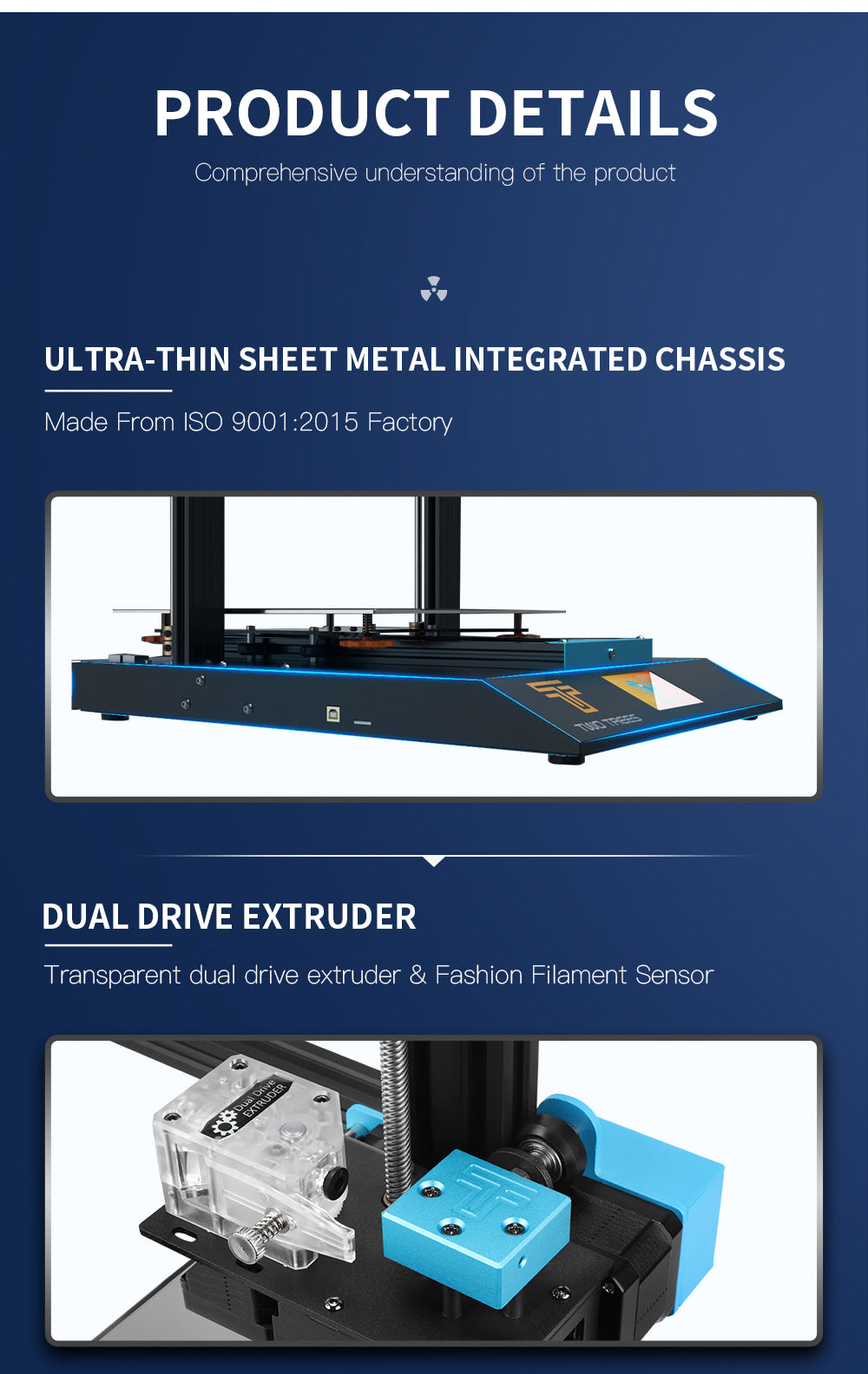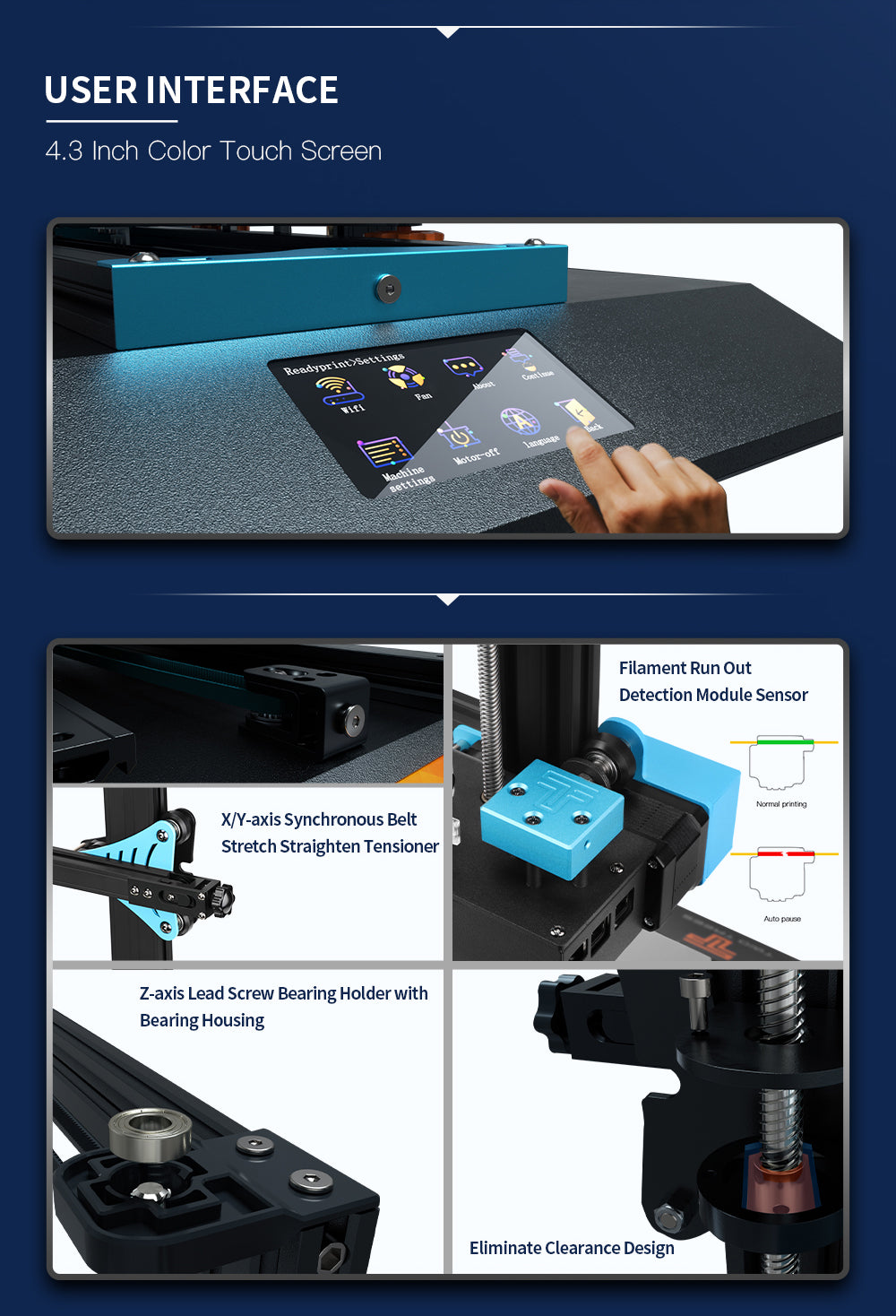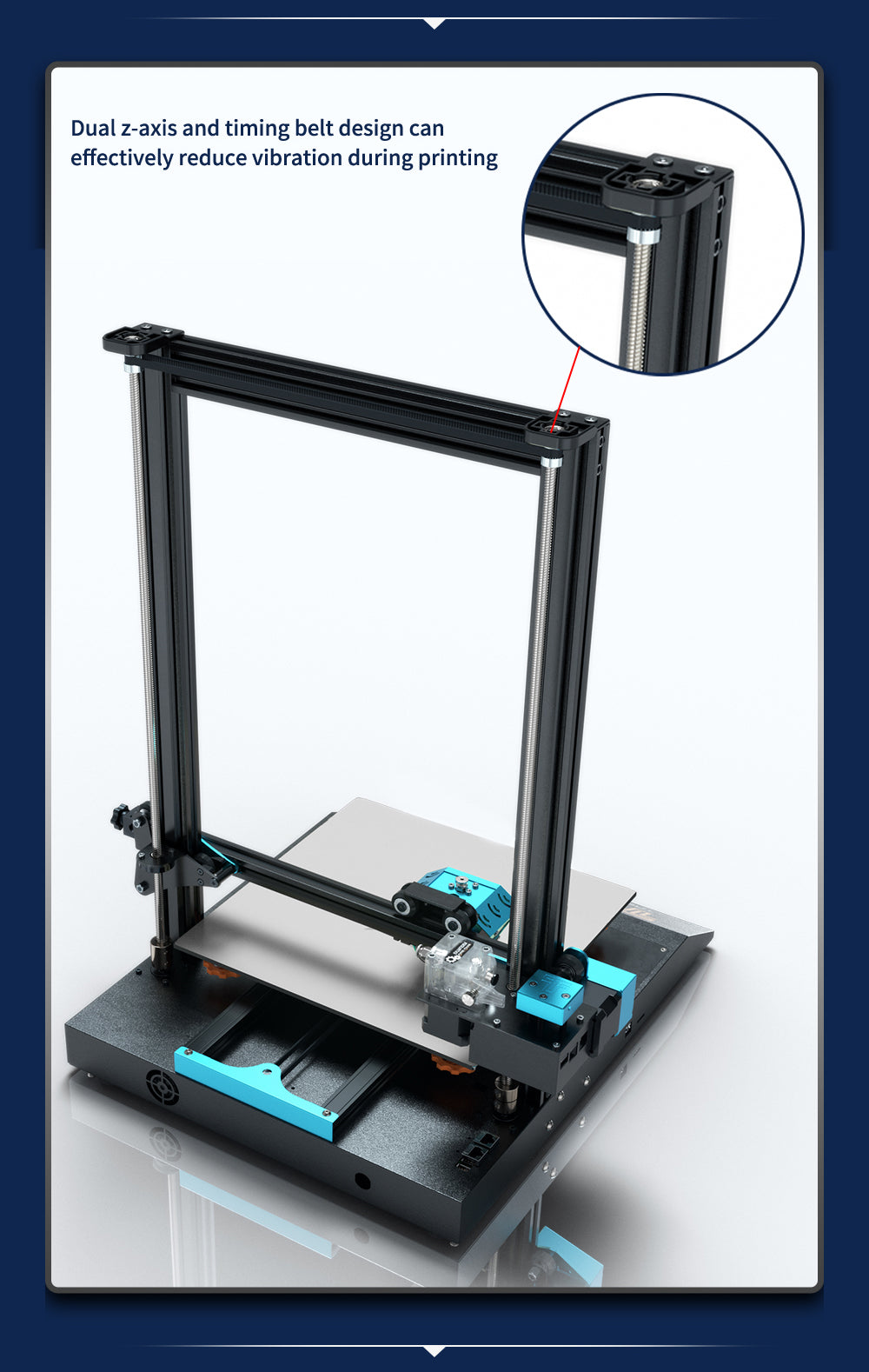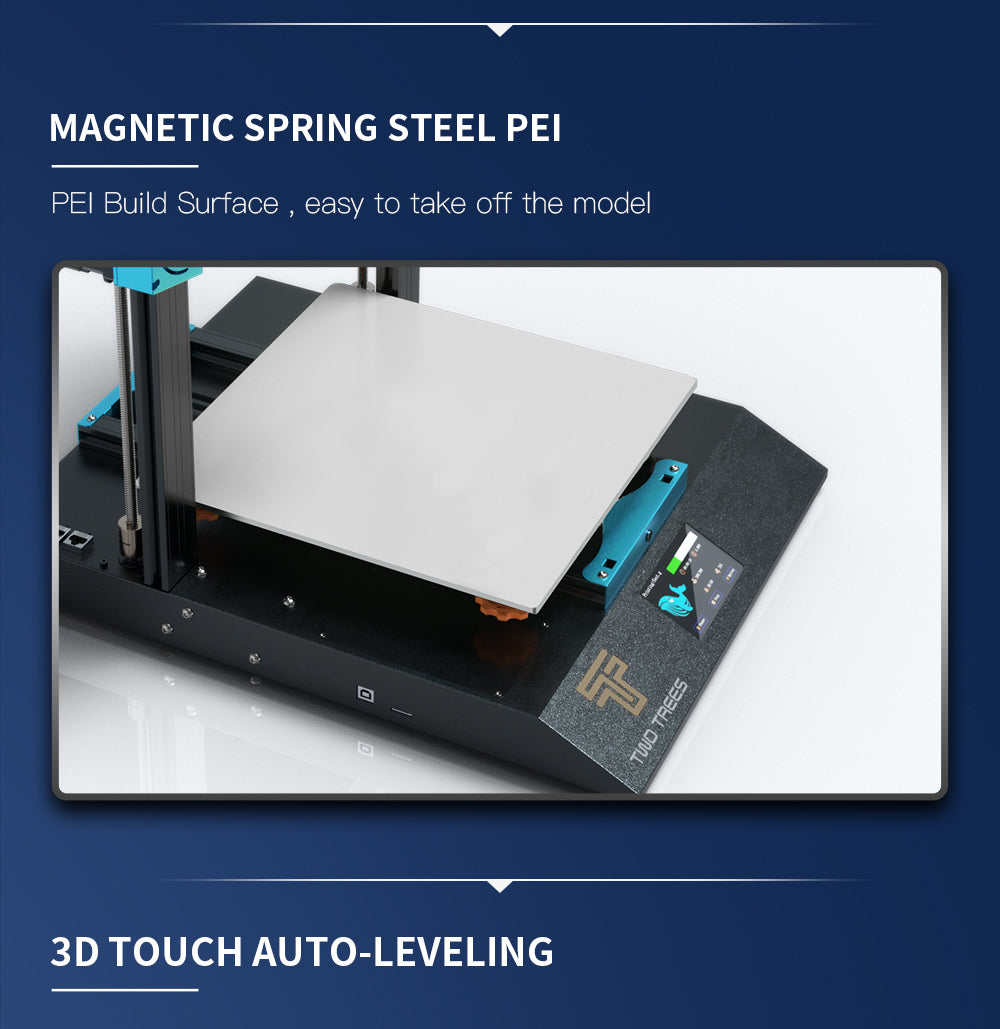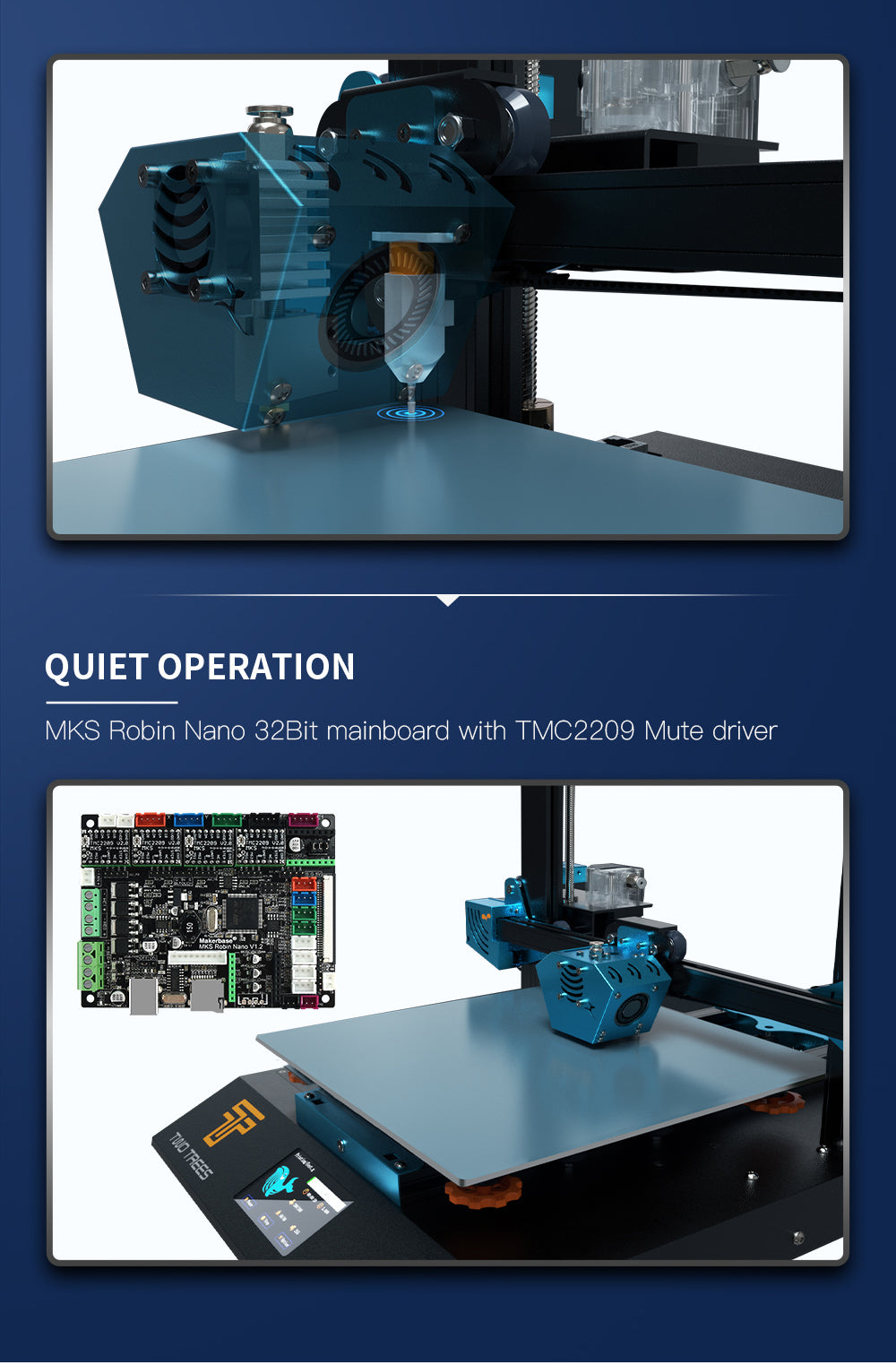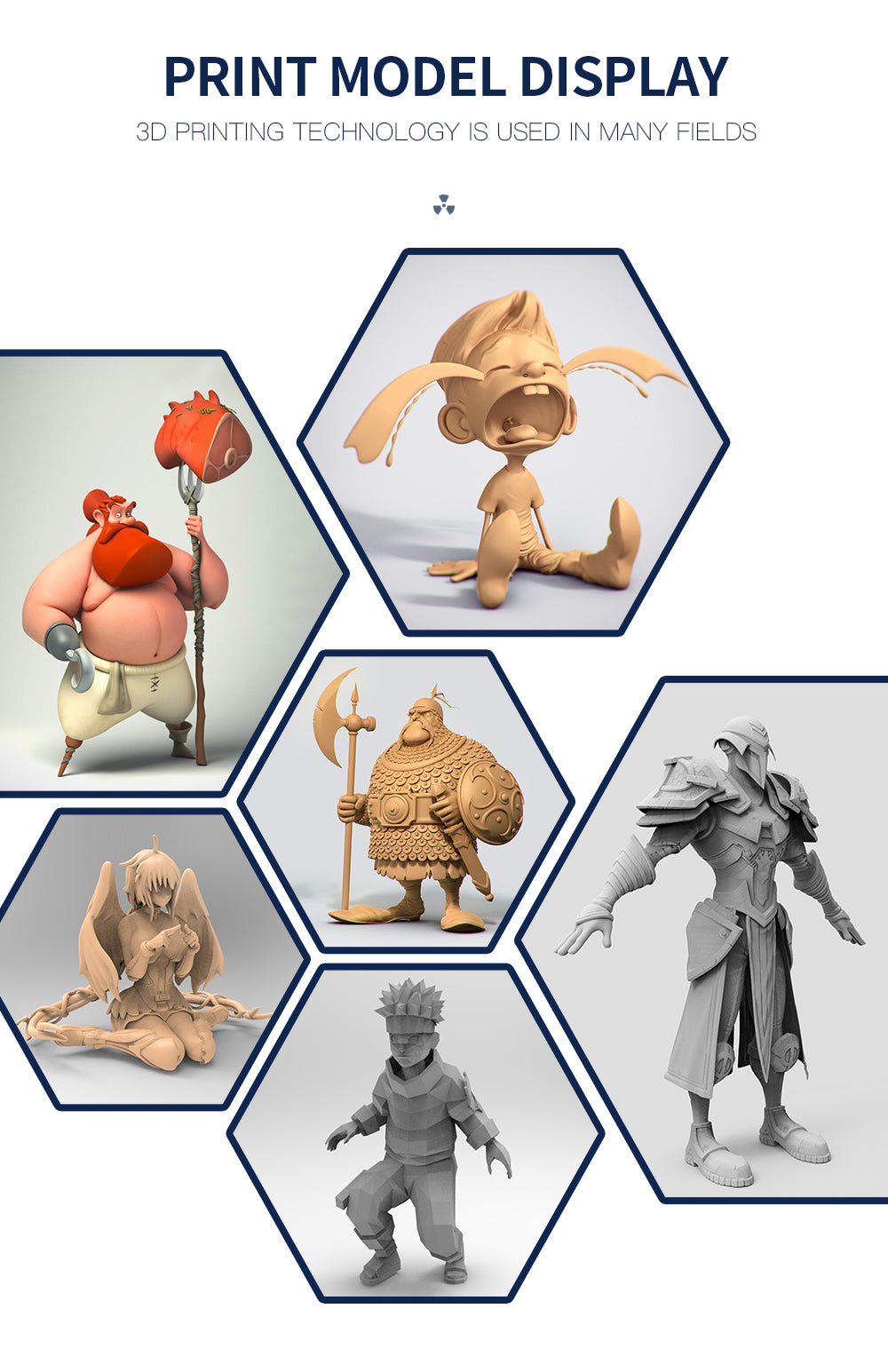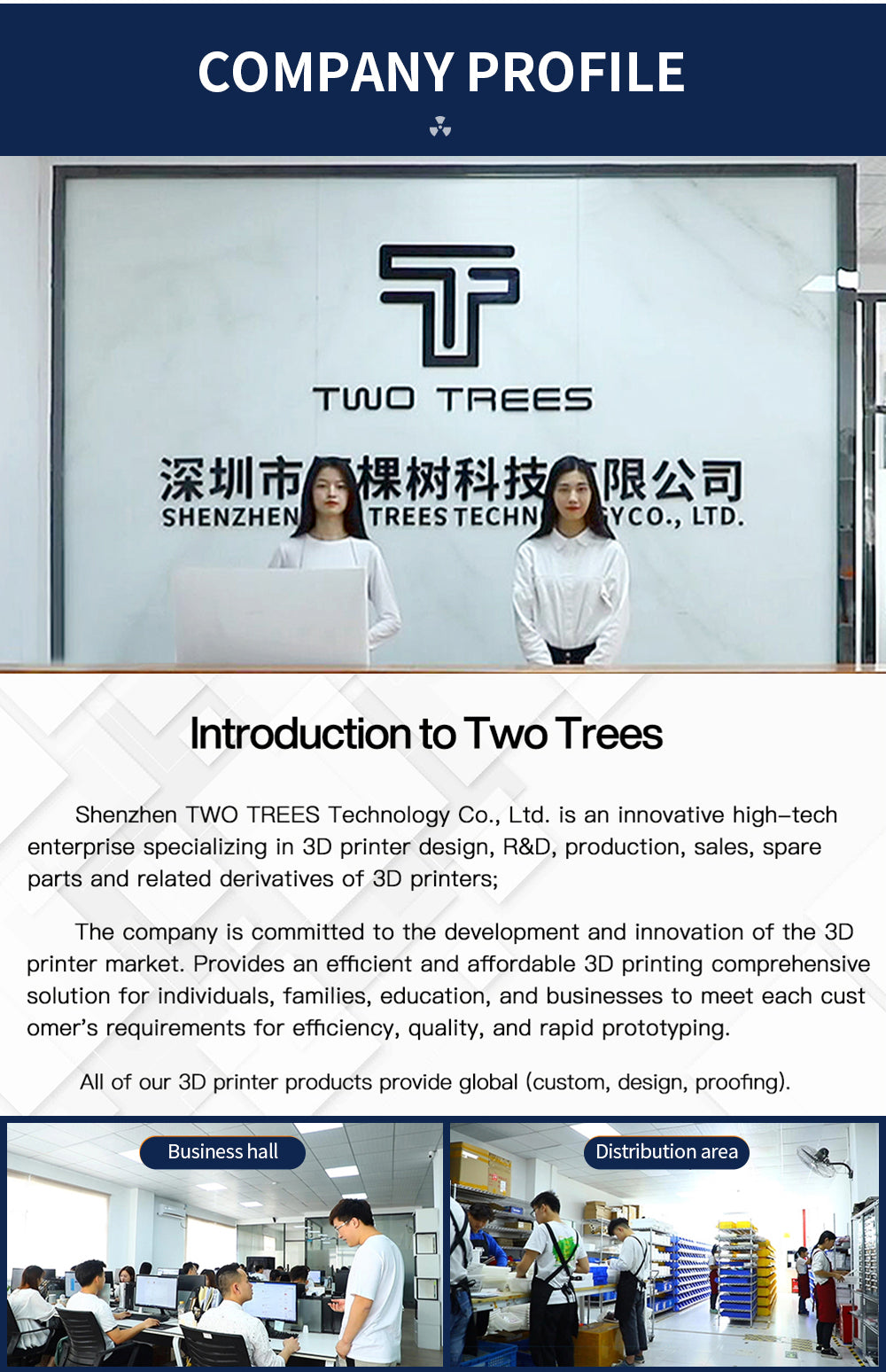 Works well. Great build surface.
I had issues with the z axis not traveling smoothly so I removed the belt (the motors run off the same driver so the belt isn't necessary)
Now the printer works great.
Make sure to replace the stock bowden tube with Capricorn.
Best value for new user
Until I recieved my Two Trees Bluer Plus (Blu-5) I had never even seen a 3D printer in person. I had never had experience with laser engraving prior to ordering a Two Trees TTS-55 Laser Engraver in May, 2022 either. Right off the bat I was extremely happy with the engraver and after researching the entry level 3d printers on the market I was confident the Blu-5 was the right choice for me, especially since the print size capacity and other features seemed to be better than others and at a better price. I was not disappointed.
I ordered the Blu-5 on August 3rd, 2022 and it was delivered on August 8th. It couldn't have been packaged any better without being packed in a wooden crate. Every part was fit snuggly into it own niche carved out within the dense foam packing material with all the tools and accesories required for assembly, including a USB card reader and Micro-SD card which contained the software and documentation.
After I had it up and running for a little while, I noticed the connection at the build plate wasn't quite like the connector I had seen on some of the YouTube reviews. I was already a member of official Two Trees groups on Facebook so I enquired about it to one of the Admins. After their investigation of my order it was determined to be among the first lots shipped. Soon afterwards I was sent the files necessary to print the part I needed. So, within hours I had assembled, started using, asked for help, provided with the files and printed the part I needed. Can't ask for much more than that.
The quality of the pieces I have printed are spectacular in my opinon. The "Benchy" is just as it came off of the printer, no post processing whatsoever. The video was made with a machine I printed from files that I found on Thingiverse.com
I have also included some picture of Lithophanes I printed. One was printed from Cura at "Standard Quality - 0.20mm" and the other at "Super Quality - 0.12mm"
To say the least I am VERY impressed that such things can be made by someone with ZERO prior experience.
A big Thank You to Two Trees for making my first endeavors with these technologies a huge success!
Delighted
Long story short, this was an upgrade from and old Anet8 clone. This printer performs like a champ. Very easy and quick to assemble. I've got 40 hour on it and still going strong. Excellent and clever design which makes assembly super easy. The setting this printer are in the latest version of Cura when you 'add printer'. I'm using the Linux version of Cura with the generic pla settings and I got excellent results. Also my first ever attempt to print with TPU came out great. Make sure to adjust the bed rollers, mine were a little loose. Check you-tubes for more info. Also adjust the left and right z axis lead screws to sync the height, mine was off by 0.5 mm, just to give you and idea.
Perfect addition to my 3d printing arsenal
I got this based on a laser engraver i got from this company. I figured if the engraver was good quality, then why not give their 3d printers a shot. Im glad I did, for the cost/benefit ratio this is worth its weight in gold. I may pickup a few more if I decide to expand the army.
Setup was super easy, and I was up and printing within 20 mins. File setup and calibrating was easy. Used it to print these hexagon wall shelves, it works perfect with all types of material ive thrown at it so far.
If you want a 3d printer that wont break the budget, and you get your moneys worth, scoop up one of these. If something changes with it, I'll update this review, but so far ive had it running nonstop for nearly a month now and it shows no signs of slowing down.
Huge! Great Printer!
Great printer! It has all of the extras that you normally have to upgrade later. This is my 4th 3d printer build and was one of the easiest. The software is fine. I use it with Cura. The plate lost its adherence so I cleaned it with alcohol and sprayed a light adhesive and it's sticking well again. The ethernet connection didn't work with my desktop or laptop so I have to use the micro SD. Quiet compared to other printers. Huge build area. Worth the money.
Update - It's been a few weeks now and I have had zero problems! I have had it running more than twelve hours nearly every day and have had no trouble with it! Overall the best value out there.
Highly recommend!
On the checkout page, the following situations will appear:
1. Standard International: This product is not in stock in the local warehouse and will be shipped from China.
2. Local Delivery: The product is in stock in the local warehouse and will be shipped directly from the local warehouse.
3. Economy International: Accessories and other products will be shipped from China.
Shipping from local warehouses
Shipping to
Shipping time
United States of America
United States
3-7 business days

Germany

All countries belonging to the European Union
3-7 business days
French
Italy
Spain
Poland
Czech
Russian Federation
Russian
3-7 business days
Ukraine
Ukraine
3-7 business days
Turkey
Turkey
3-7 business days
Brazil
Brazil
3-7 business days
China
Most countries in the world
7-15 business days
Most spare parts,filaments and accessories will be shipped from China
25-30 business days
Processing time:Within 3 business days
Orders for 3D printers and laser engravers from the following listed countries would be shipped from overseas warehouses without shipping costs and taxes (fees might be collected for remote areas).
All EU countries: Spain, France, Germany, Czech Republic, Poland, Italy, etc.
United States of America
Brazil
Turkey
Russia
Ukraine
Please note: in case your ordered machines are out of stock in overseas warehouses, we would ship goods directly from China. You might need to pay taxes and assist the shipping company with customs clearance.  We would contact you via email in such cases before shipping.
Orders for accessories from all counties are shipped from China and customers might need to bear the shipping costs and tax fees. 
Specifications
| Model | BLU-5 |
| --- | --- |
| Number Of Nozzles | 1 |
| Nozzle Size | 0.4mm |
| Molding Platform Size | 300*300*400mm |
| Printing Accuracy | ±0.1-0.2mm |
| XY Axis Positioning Accuracy | 0.01mm |
| Z-Axis Positioning Accuracy | 0.004mm |
| Layer Thickness | 0.1-0.4mm |
| Printing Method | TF card / online printing |
| Display | 4.3" Color Touch Screen |
| Machine Speed | 10~300mm/s |
| Printing Speed | 20-200mm/s |
| Max Extrusion Head Temperature | 260℃ |
| Max Hot Bed Temperature | 100℃ |
| Support Filament | PLA/ABS/PETG/Wood etc. |
| Filament Diameter | 1.75mm |
| Software Format | STL、OBJ、JPG |
| Print File Format | Gcode |
| Power supply | 220V/110V 360W |
| Operating System | Windows, MAC |
| Support Software | Repetier-Host, Cura |
| Machine Size | L405*W505*H646mm |
| Machine Weight | 12.5 KG |
| Package Weight | 16KG |
TF Card Files: Download (User manual, installation video,softwares and other required files are all included in the profile.)