Bluer Plus(BLU-5) i3-style 3D Printer - TwoTrees
Special Offers

Type

Discount

Coupon Code

MATERIAL PACK

( Auto applied)

ALL Order

5% OFF

TT5

Order 2 PCS (for any product)

6% OFF

OFF06

Order 5 PCS (for any product)

10% OFF

OFF10

Order 10 PCS (for any product)

12% OFF

OFF12

$70 OFF

TS70

$50 OFF

TS50

$40 OFF

TT50

$30 OFF

TS30
* Enter the coupon code at checkout;
* One order only applies to one coupon;
* Can't Combine multiple order or product discounts;

customers are viewing this product
Reliable Metal Design: This printer is mainly composed of 2040 aluminum extrusion and sheet metal base, which makes this large size printer stronger and less prone to deformation. The position of the base motherboard is designed with a skylight, which is convenient for viewing the motherboard and replacing the driver. The surface of the sheet metal base is painted, anti-scratch, anti-rust, and more beautiful. Auto-leveling system: Magnetic PEI print beds are also easy to use, thanks to the auto-leveling system built into the hot end. When the filament runs out, the extruder stops printing and sounds an alarm.
Quiet and Precise Printing: Our 3D printer uses a transparent double wheel extruder, 32-bit silent motherboard, synchronized dual Z-axis, and printing is more precise and quiet. Printing accuracy: ±0.1mm. 1.75mm printing material: PLA, ABS, PETG, TPU, wood, etc.
Smart Color Touch Screen: Our 3D printer uses a 4.3" color touch screen, which is much larger than other 3.5" screens. Sensitive and simple operation, easy to use. Do you have any other questions? Then please contact us.
Resume Printing: Our 3D printers can resume printing after a power outage or other unexpected downtime. Save time, material and effort. Large print size: 300 x 300 x 400 mm. Larger size models can be printed.
Two Trees BLU-5 is 3D Printing Machine with automatical bed leveling design and largest printing space of 300*300*400mm. It's 90% pre-assembled and only 6 screws required to complete installation. It's built with metal sheet material for durable and stable application. It's one of the best budget 3D printers in the market with outstanding performance comparable to commercial 3D printers.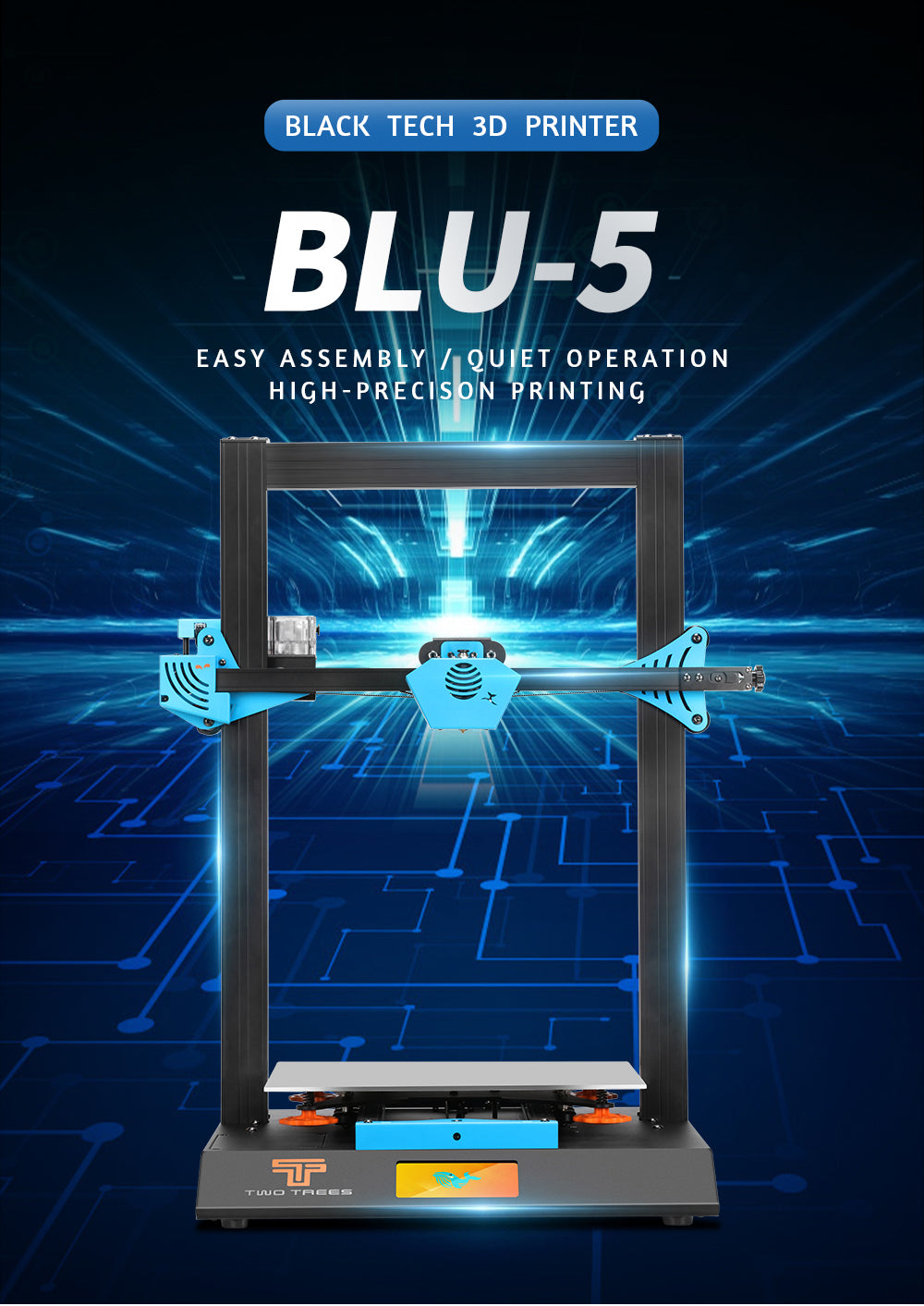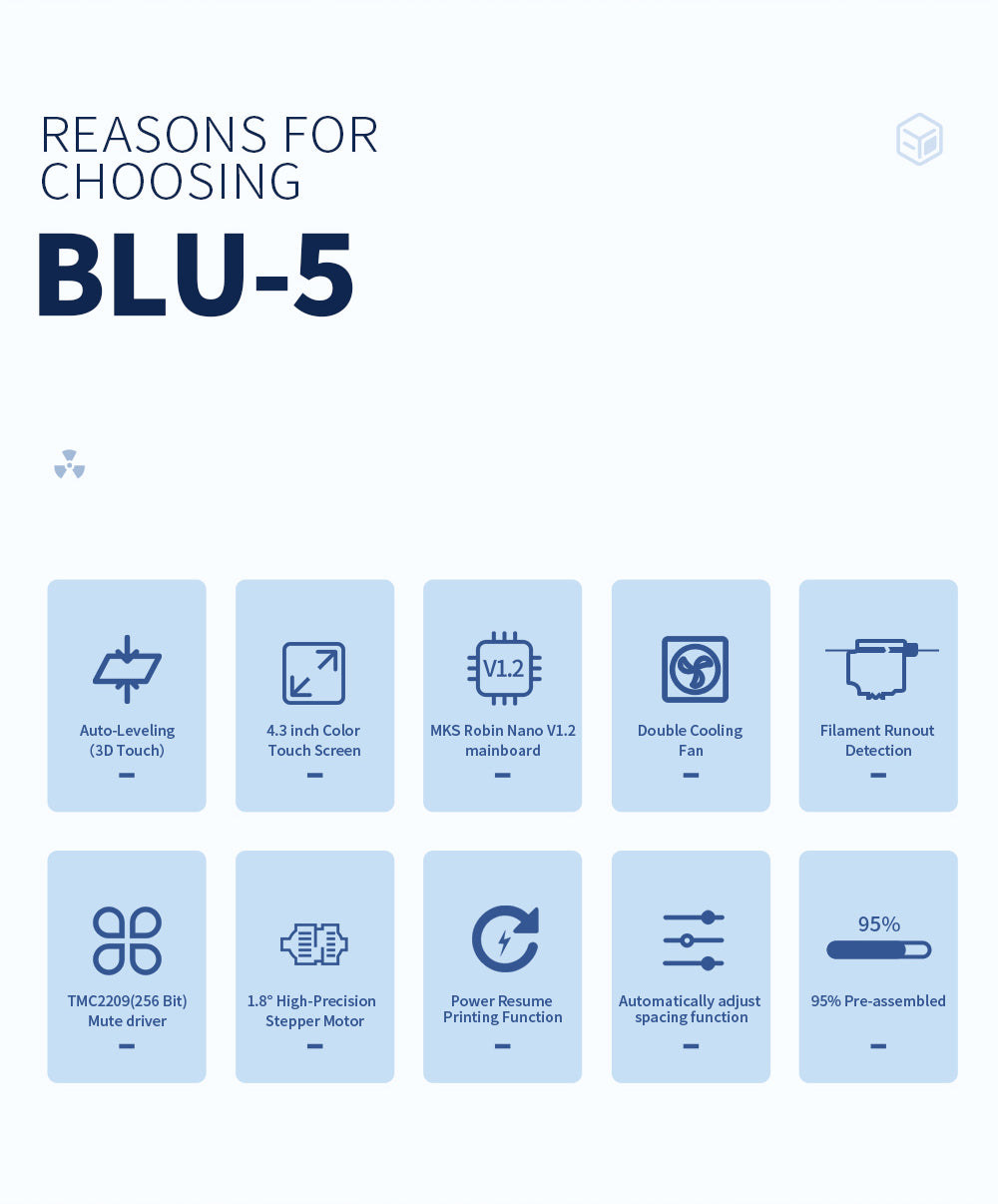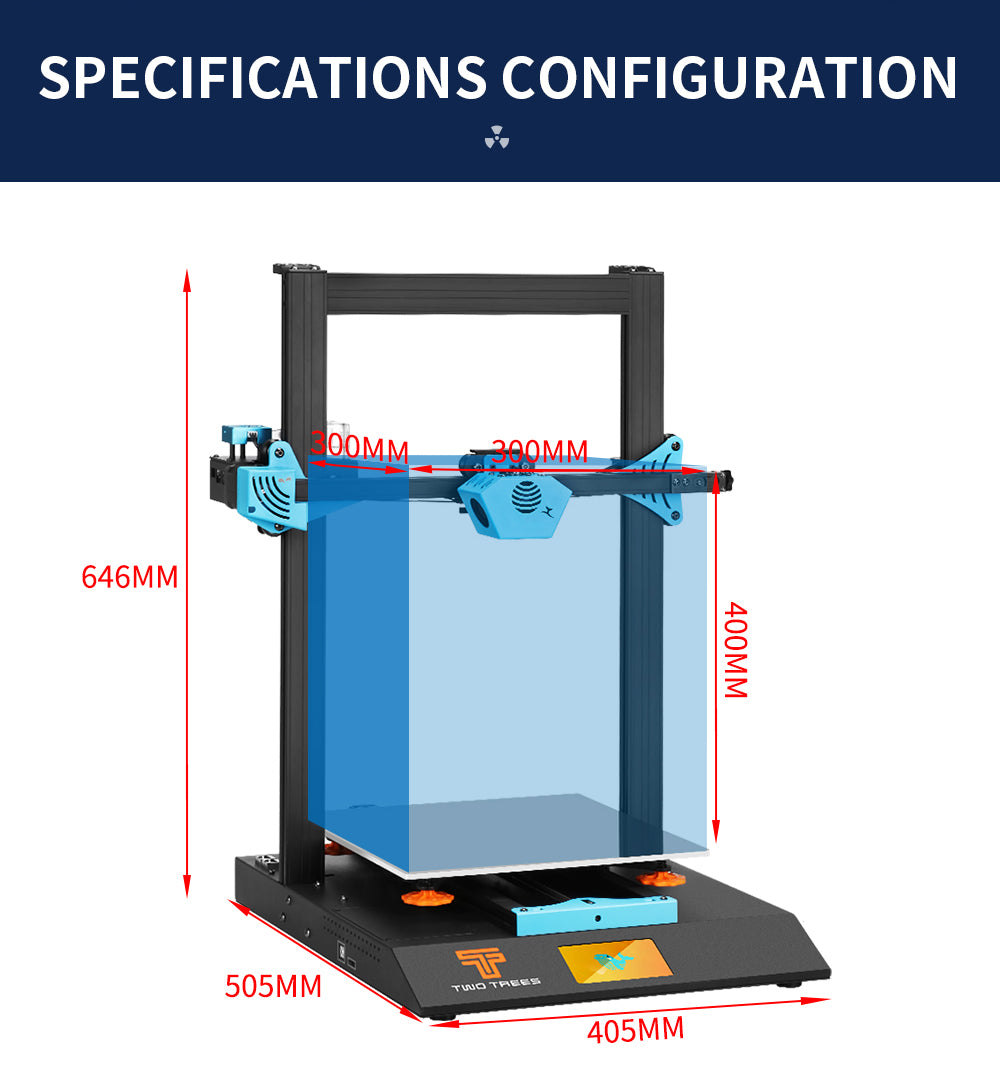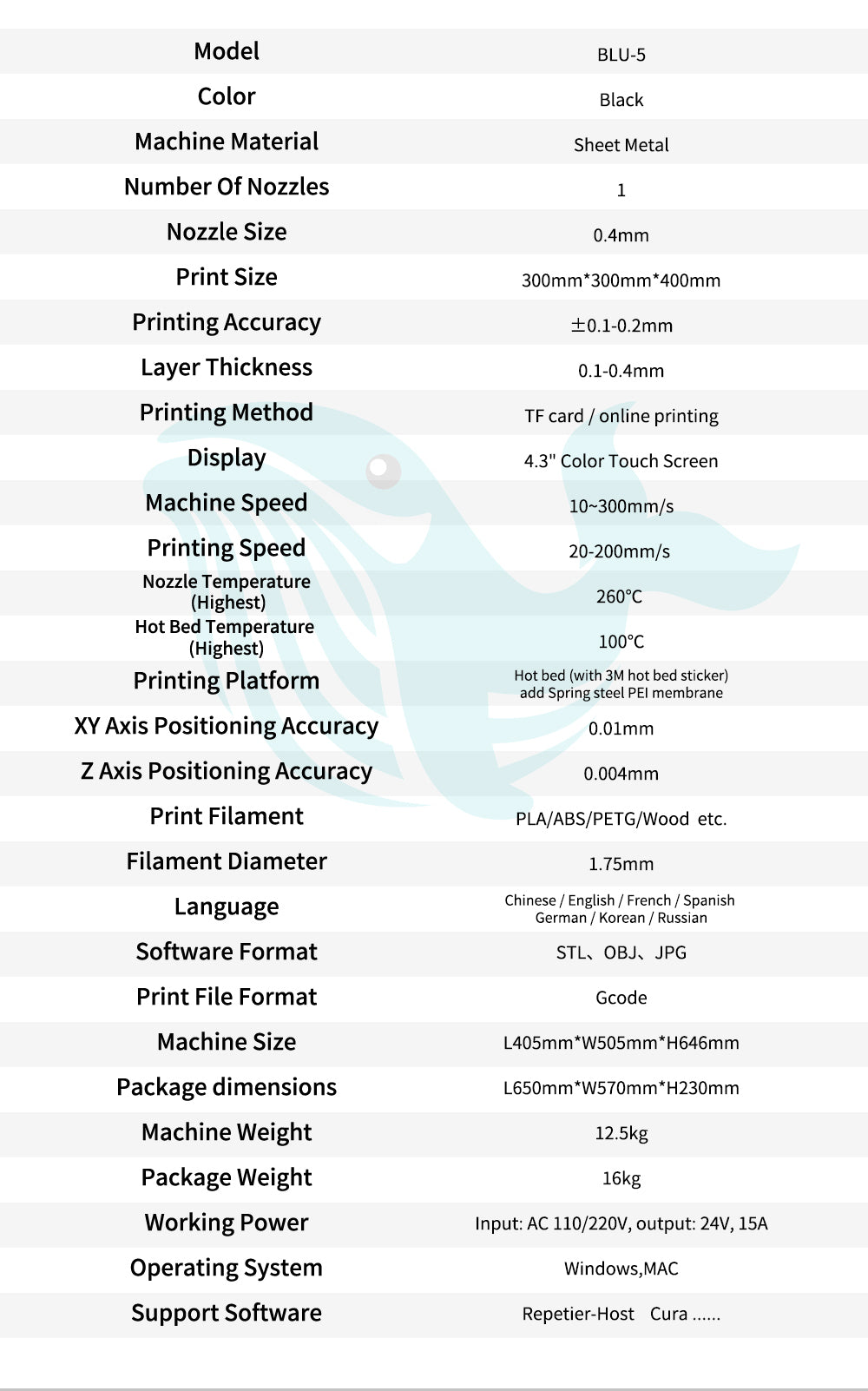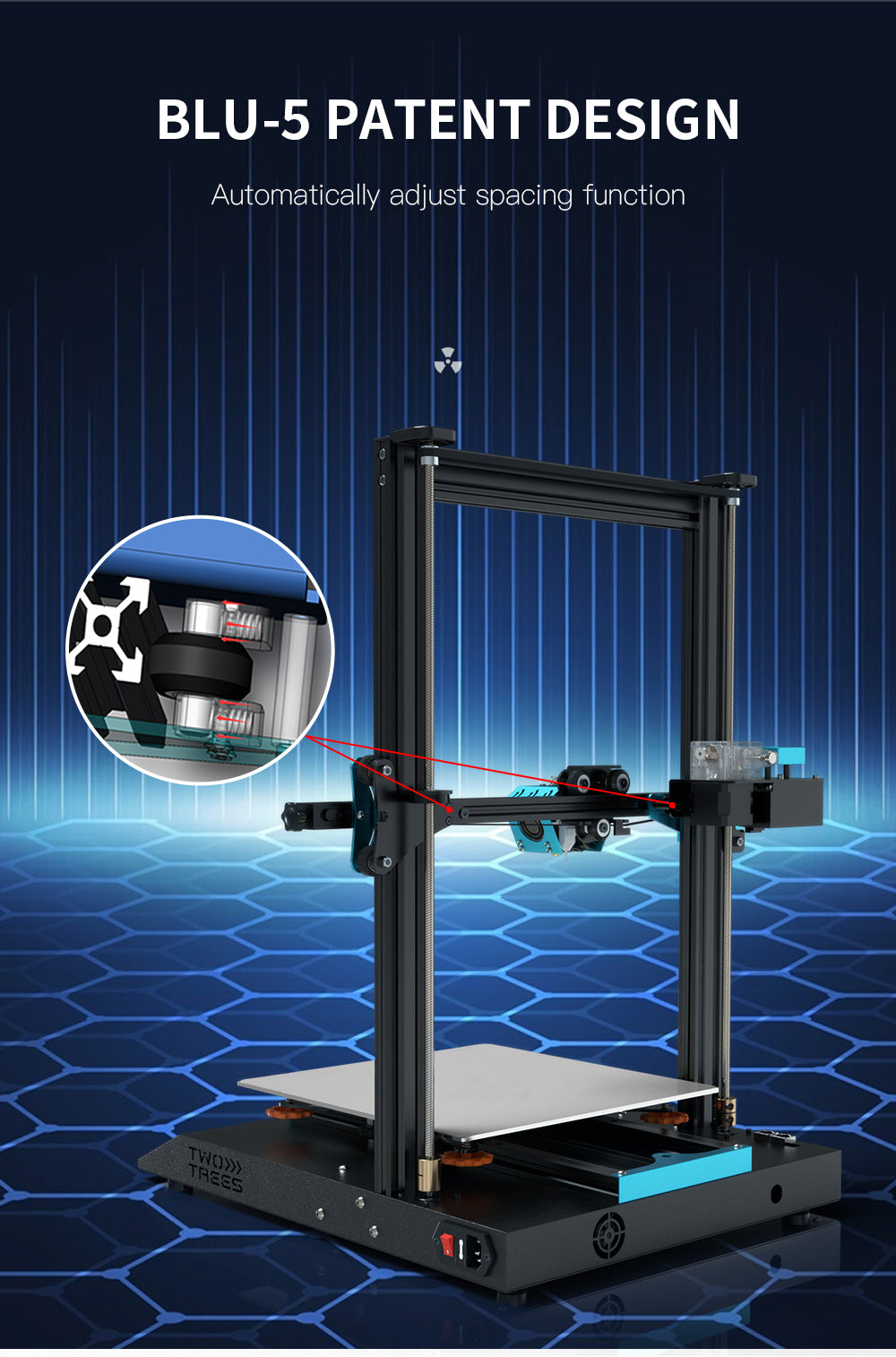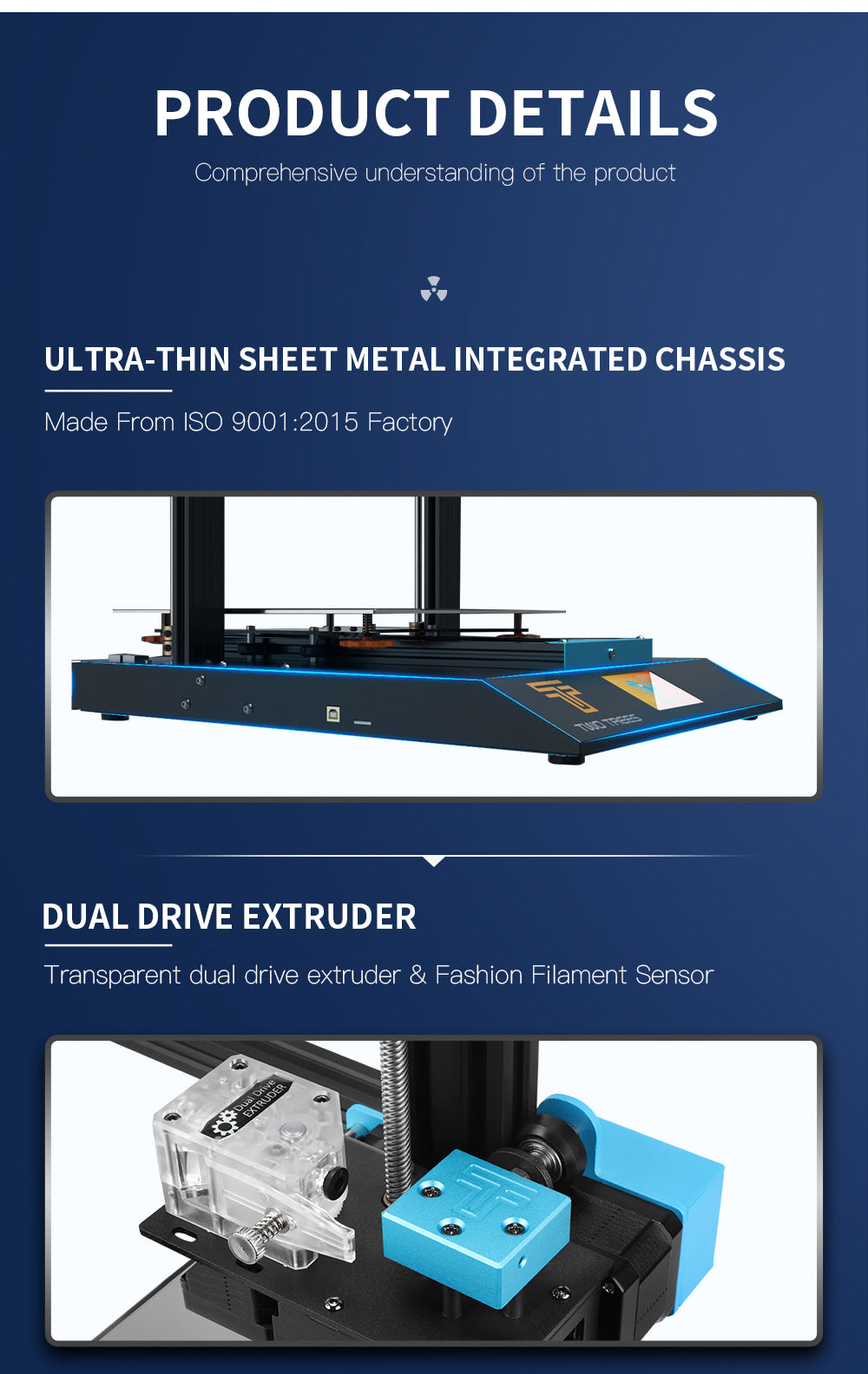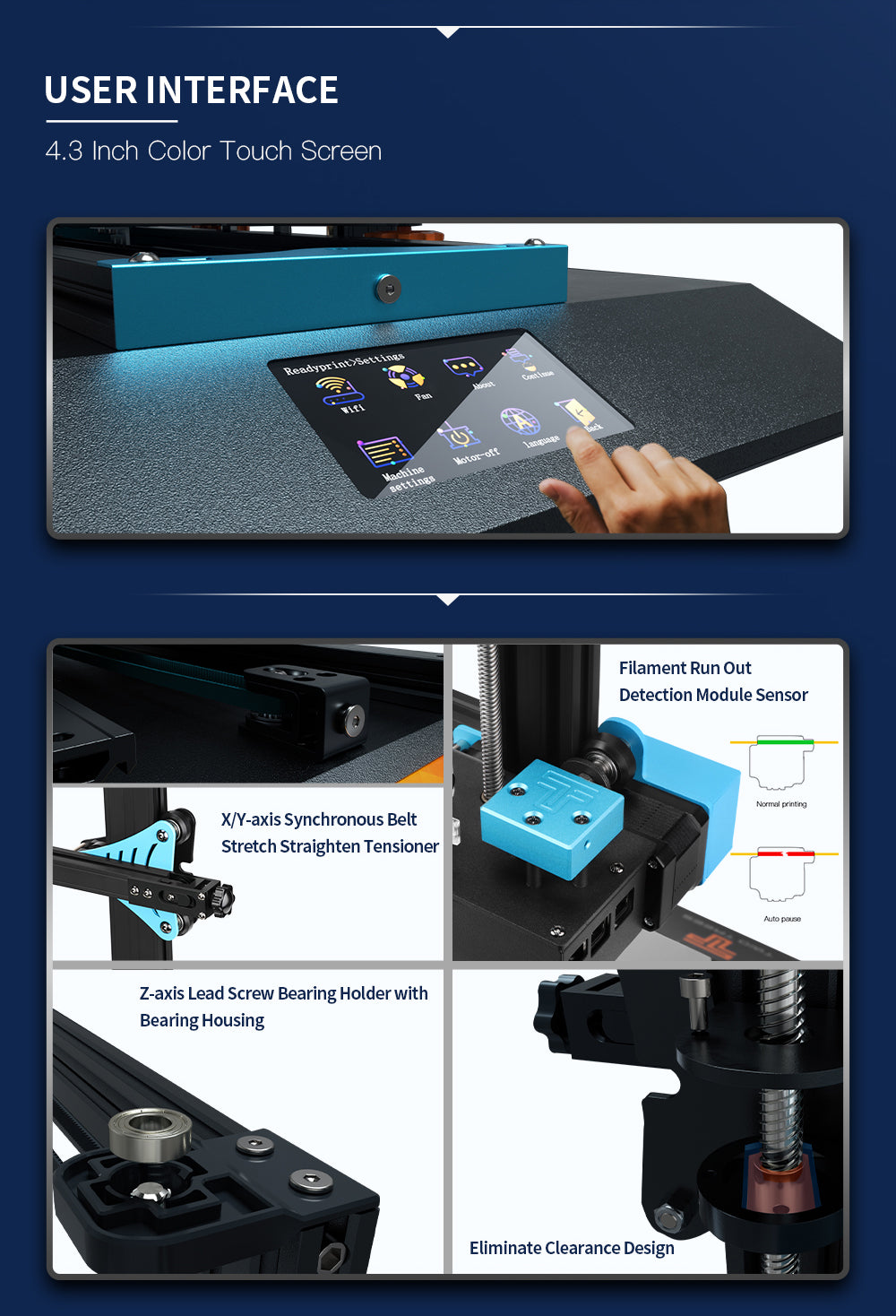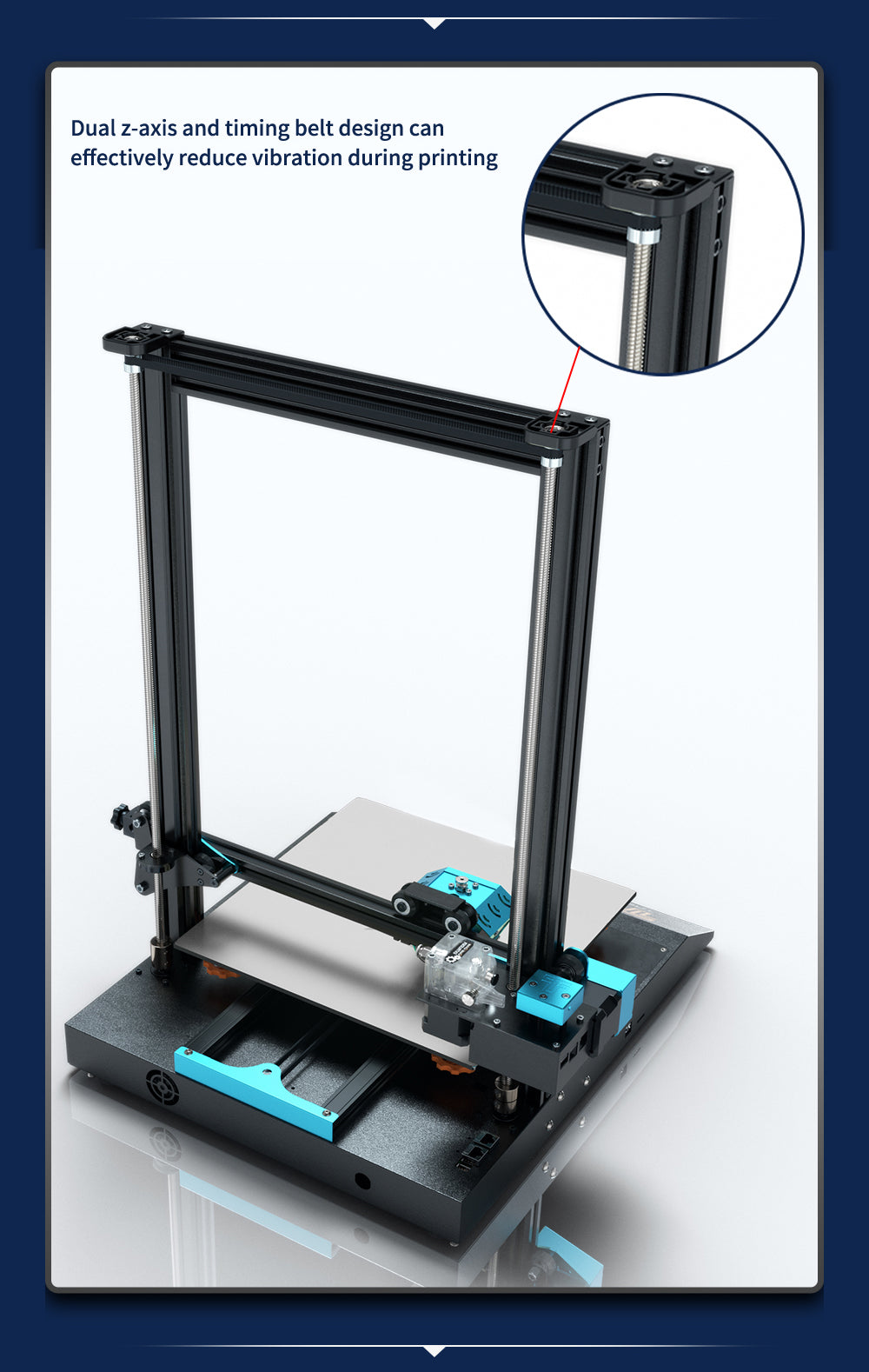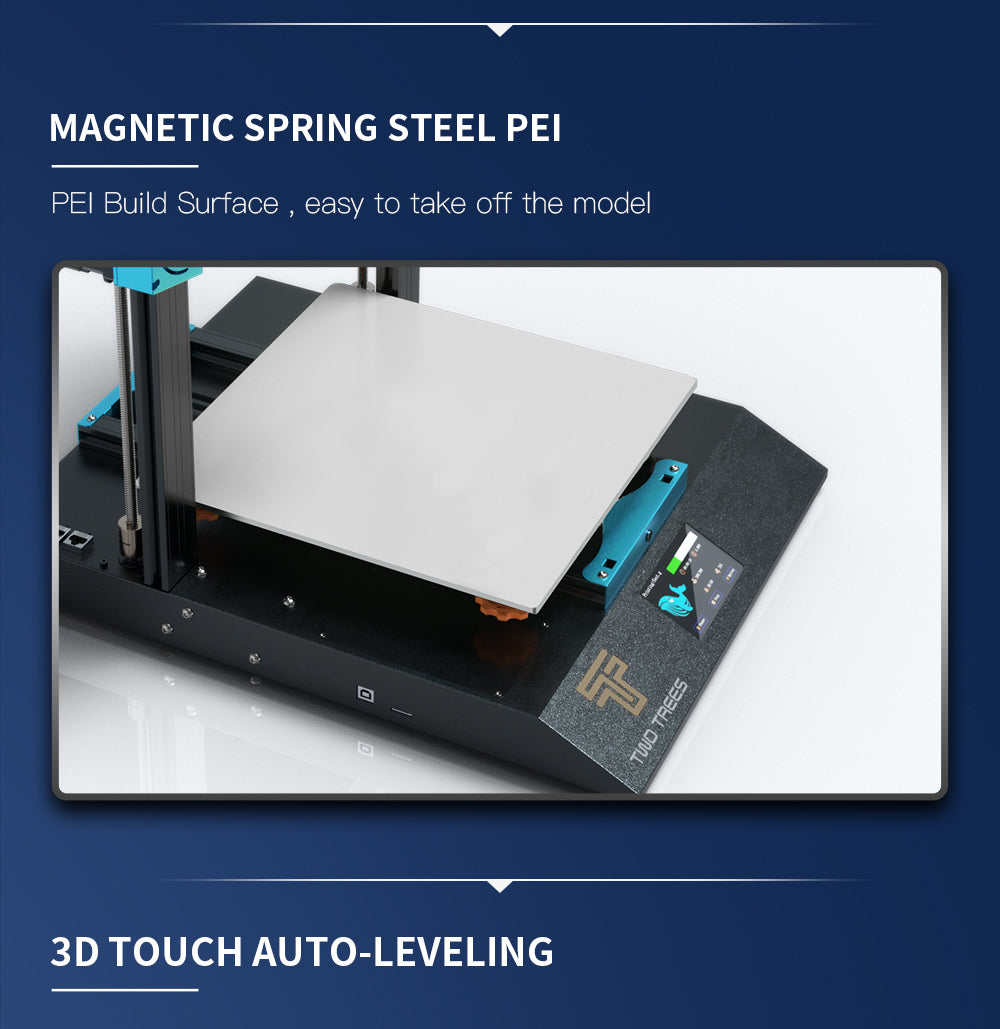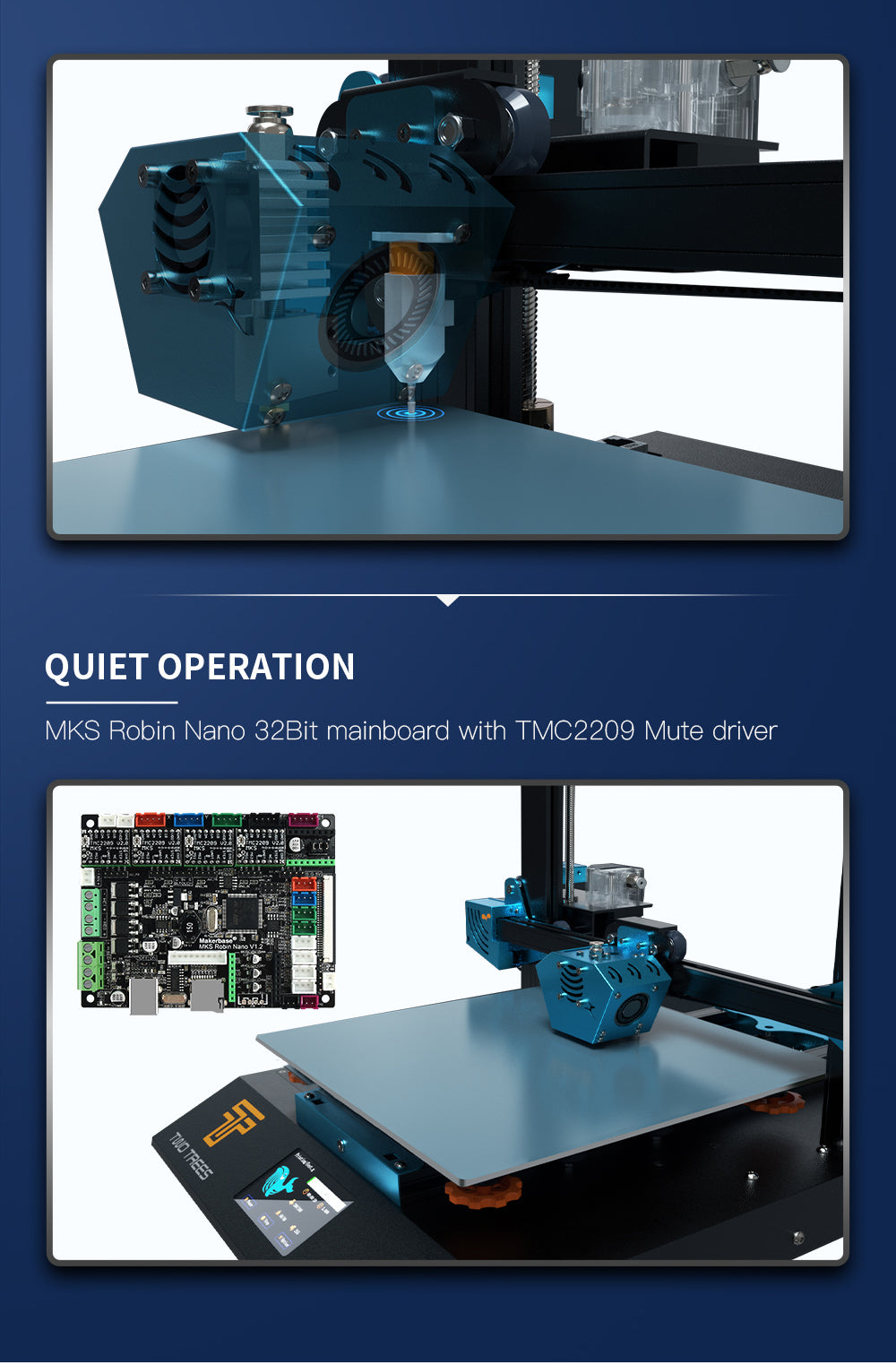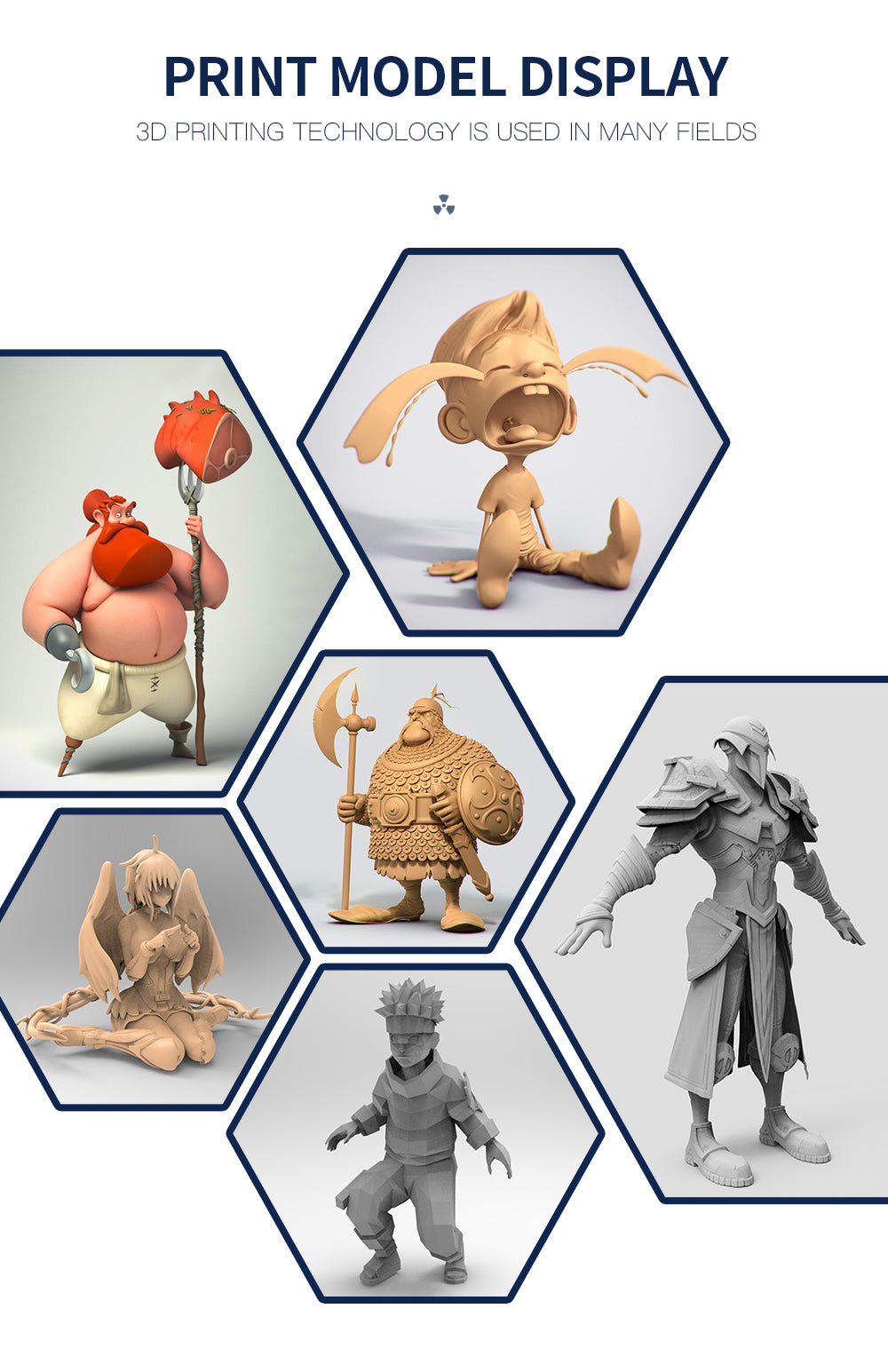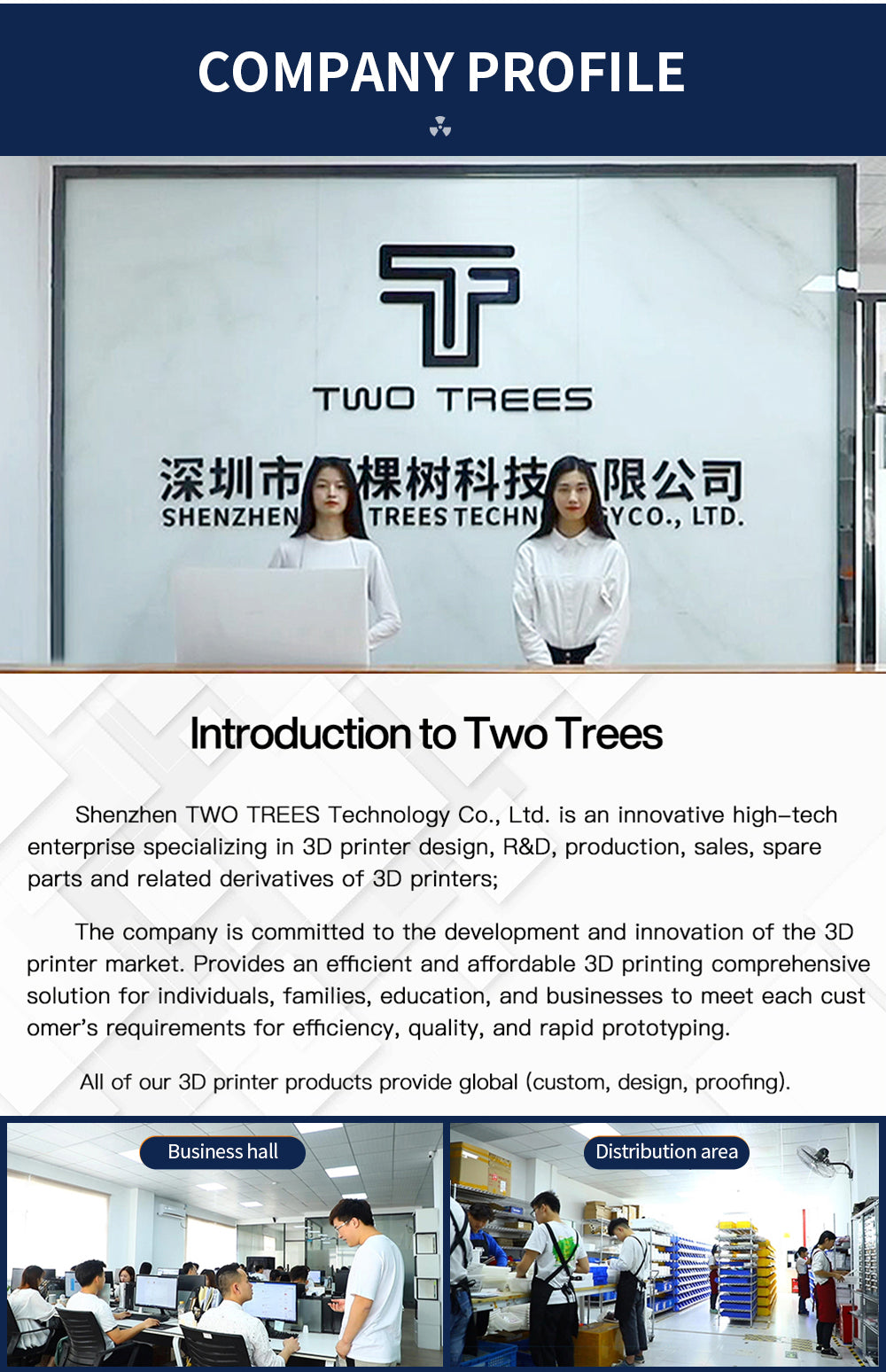 Good packaging, but long delivery.
The original assembly of the printer is quite simple. Good completeness.
Spring-loaded wheels on the z-axis work normal.
And yes it's big, really big.
Interesting printer for upgrade.
Convenient location of the access hatch to the board.
Not bad hardware on the 1.2 board.
Good drivers on the axles.
Noisy without additional modifications.
Everything works out of the box, fast delivery, the second mat came separately, which made me doubt the integrity of the delivery, but everything arrived, I recommend
The first printer. Very satisfied! Collected in an hour. Held out all the bolts. All were badly twisted.
The power supply fan makes a really loud noise. But, no problem! I will print a new cover and put the 92nd fan. Easily found the 3D cover layout according to the power supply model.
In the Internet a lot of videos about setting up the printer. There were no problems. I recommend to purchase.
Delivered in 1 week at Moscow time
Delivered in 3 days from a Russian warehouse, personally in hand to the door. The printer is quiet, it is worth a BMG extruder and hotend volcano. But there are nuances: a very loud power supply, or rather a cooler in it. It is useless to lubricate, or change the cooler or like me for a non-cooler BP. second: the thread breaks on the filament sensor, but on the well-known site there are a bunch of different models in this regard. In general, the printer on solid 5, comes almost assembled, 4 bolts in the base screw in and coil holder. Do not run test printing from a flash drive, there is horror. I set up the table in just 2 minutes, the bltouch is great. I recommend for purchase
On the checkout page, the following situations will appear:
1. Standard International: This product is not in stock in the local warehouse and will be shipped from China.
2. Local Delivery: The product is in stock in the local warehouse and will be shipped directly from the local warehouse.
3. Economy International: Accessories and other products will be shipped from China.
Shipping from local warehouses
Shipping to
Shipping time
United States of America
United States
3-7 business days

Germany

All countries belonging to the European Union
3-7 business days
French
Italy
Spain
Poland
Czech
Russian Federation
Russian
3-7 business days
Ukraine
Ukraine
3-7 business days
Turkey
Turkey
3-7 business days
Brazil
Brazil
3-7 business days
China
Most countries in the world
7-15 business days
Most spare parts,filaments and accessories will be shipped from China
25-30 business days
Processing time:Within 3 business days
Orders for 3D printers and laser engravers from the following listed countries would be shipped from overseas warehouses without shipping costs and taxes (fees might be collected for remote areas).
All EU countries: Spain, France, Germany, Czech Republic, Poland, Italy, etc.
United States of America
Brazil
Turkey
Russia
Ukraine
Please note: in case your ordered machines are out of stock in overseas warehouses, we would ship goods directly from China. You might need to pay taxes and assist the shipping company with customs clearance.  We would contact you via email in such cases before shipping.
Orders for accessories from all counties are shipped from China and customers might need to bear the shipping costs and tax fees. 
Specifications
| Model | BLU-5 |
| --- | --- |
| Number Of Nozzles | 1 |
| Nozzle Size | 0.4mm |
| Molding Platform Size | 300*300*400mm |
| Printing Accuracy | ±0.1-0.2mm |
| XY Axis Positioning Accuracy | 0.01mm |
| Z-Axis Positioning Accuracy | 0.004mm |
| Layer Thickness | 0.1-0.4mm |
| Printing Method | TF card / online printing |
| Display | 4.3" Color Touch Screen |
| Machine Speed | 10~300mm/s |
| Printing Speed | 20-200mm/s |
| Max Extrusion Head Temperature | 260℃ |
| Max Hot Bed Temperature | 100℃ |
| Support Filament | PLA/ABS/PETG/Wood etc. |
| Filament Diameter | 1.75mm |
| Software Format | STL、OBJ、JPG |
| Print File Format | Gcode |
| Power supply | 220V/110V 360W |
| Operating System | Windows, MAC |
| Support Software | Repetier-Host, Cura |
| Machine Size | L405*W505*H646mm |
| Machine Weight | 12.5 KG |
| Package Weight | 16KG |
TF Card Files: Download (User manual, installation video,softwares and other required files are all included in the profile.)