TwoTrees Laser Engraver TT-5.5S
✅ 3000MM/Min Engraving Speed, 0.08mm accuracy,
✅ Support LaserGRBL or LightBurn, work in Windows XP, 7, 8, 10, Mac OS, and Linux.
✅ It can engrave stainless steel and cut up to 5mm plywood & 3mm acrylic board;
✅ 11.81" x 11.81"mm Working Area;
Limited-Time Offers, End in:
$20-off code: FB2DHYXA0VKX
$200-off for orders over $1500 code: 6WZV4DGG2KPF
customers are viewing this product
Desktop Laser Engraver Twotrees TT-5.5 S Laser Engraving Machine with LKS Motherboard 40w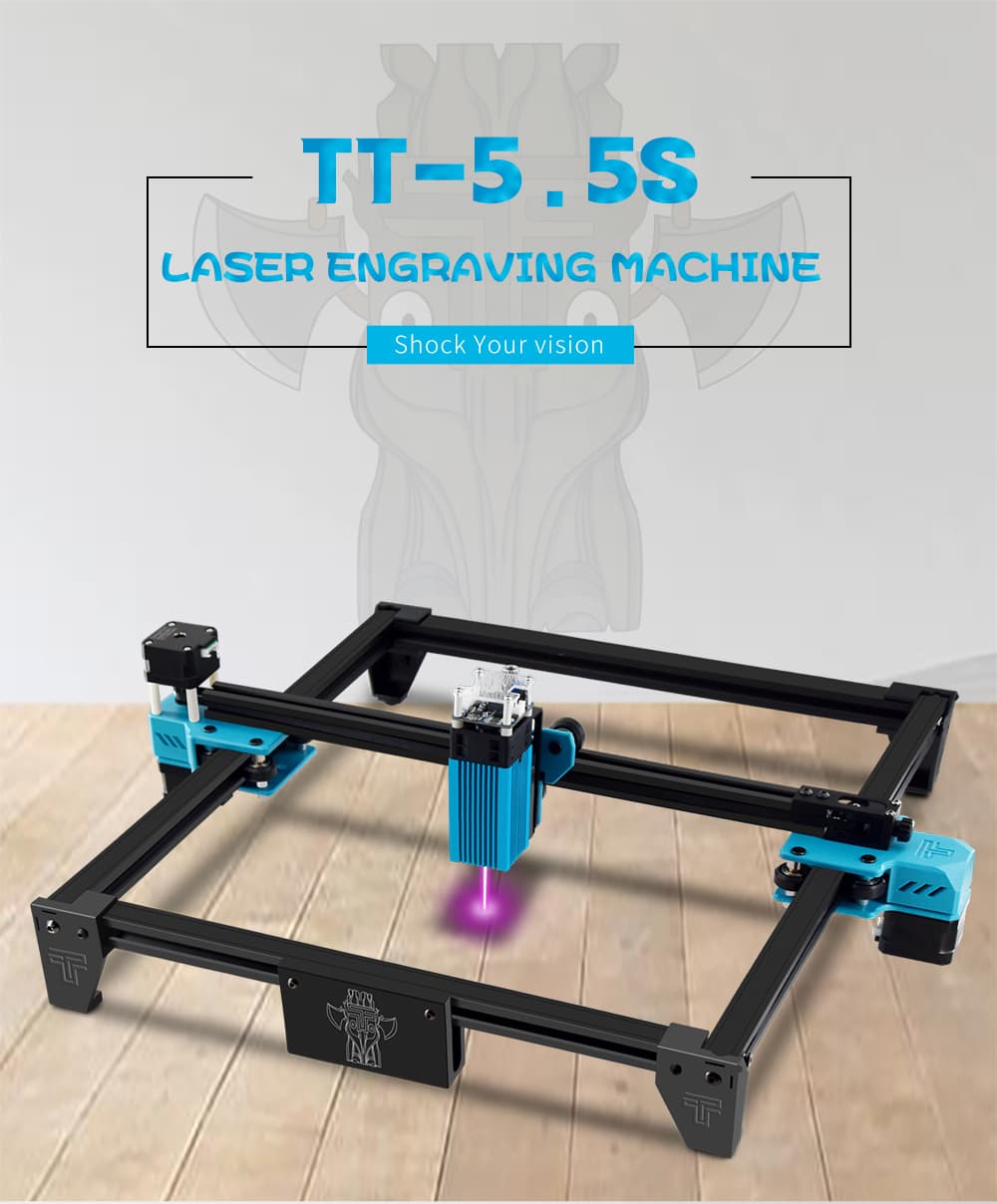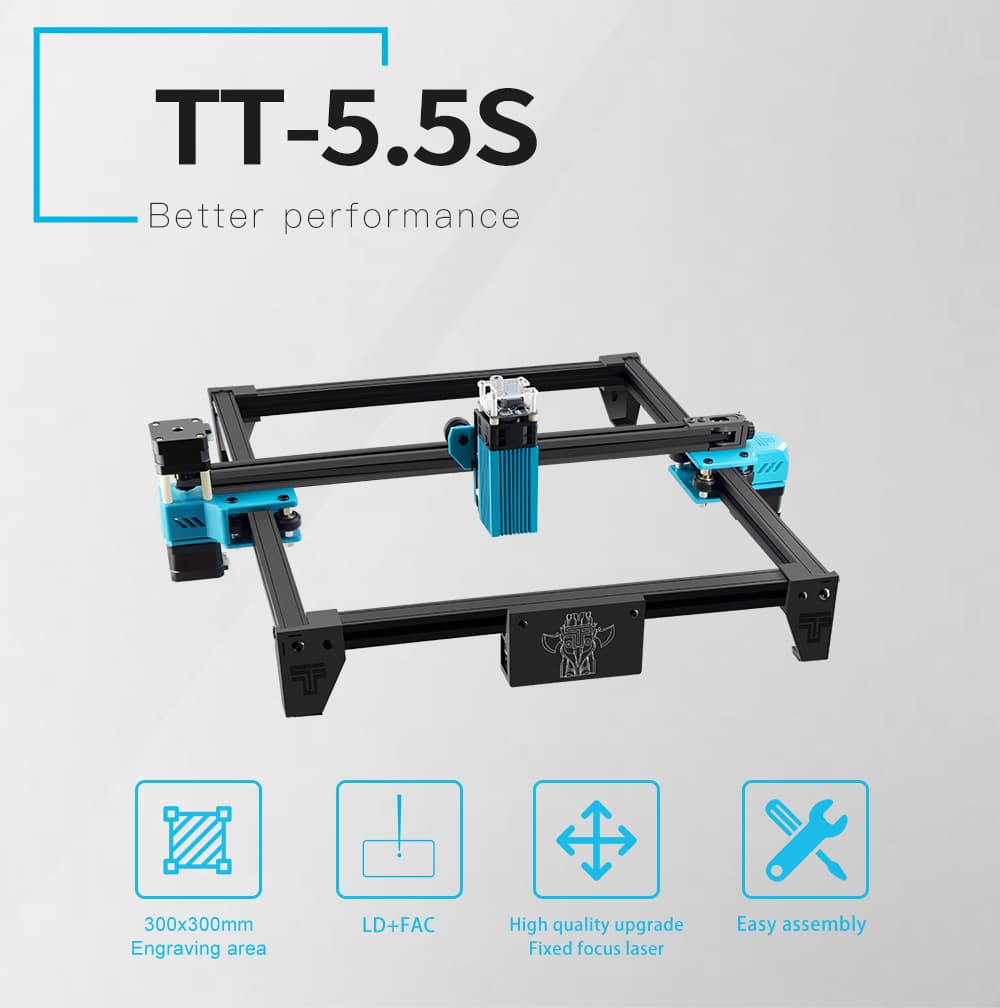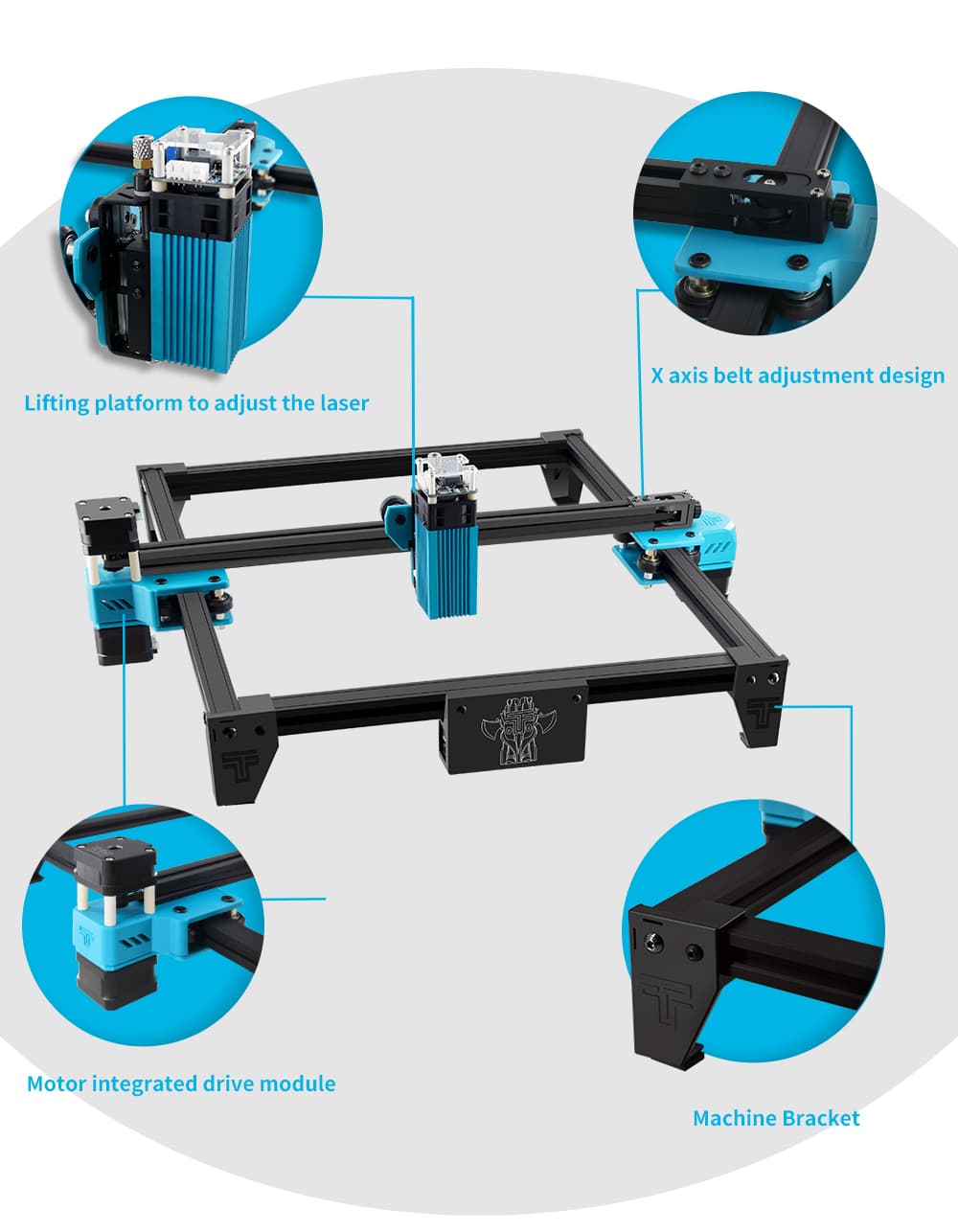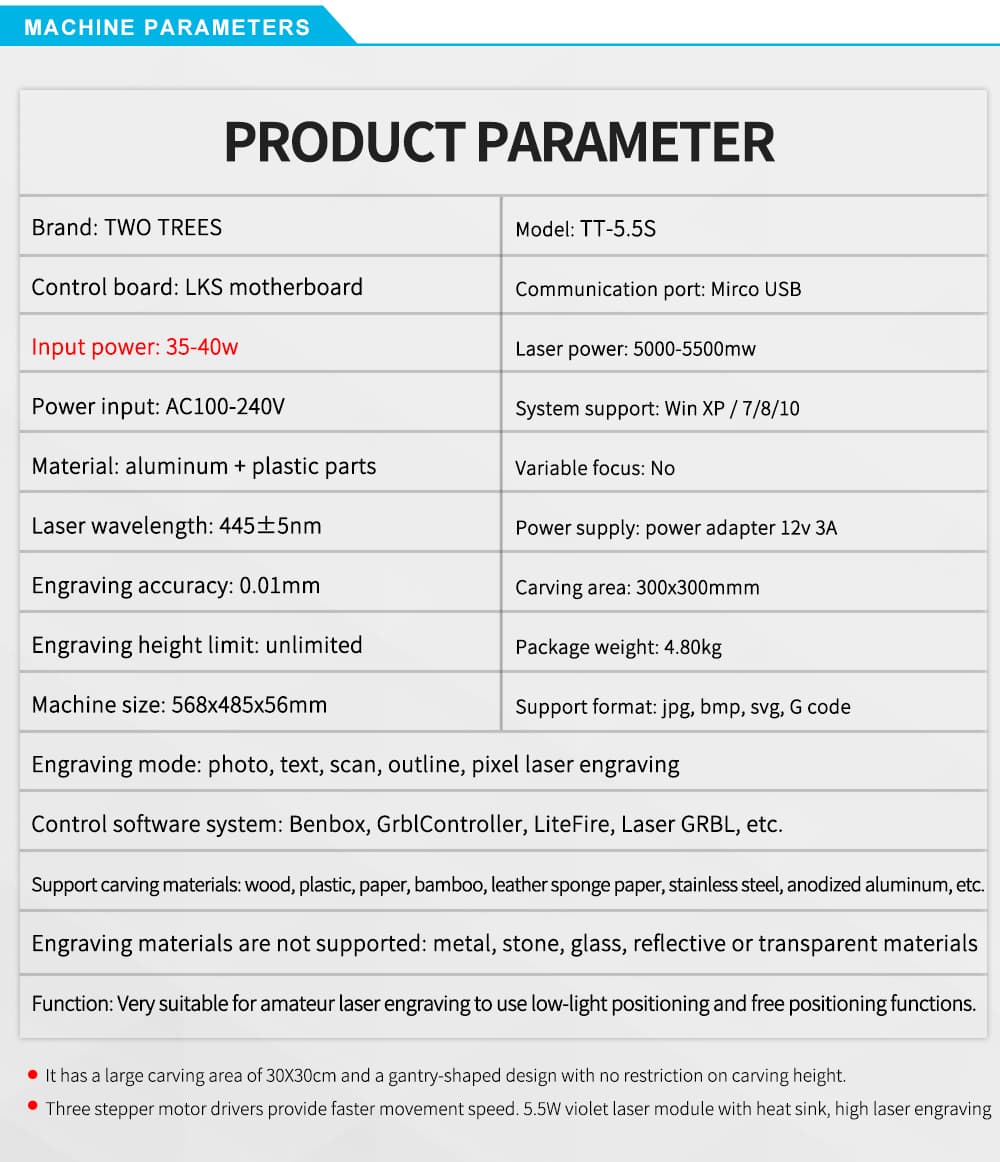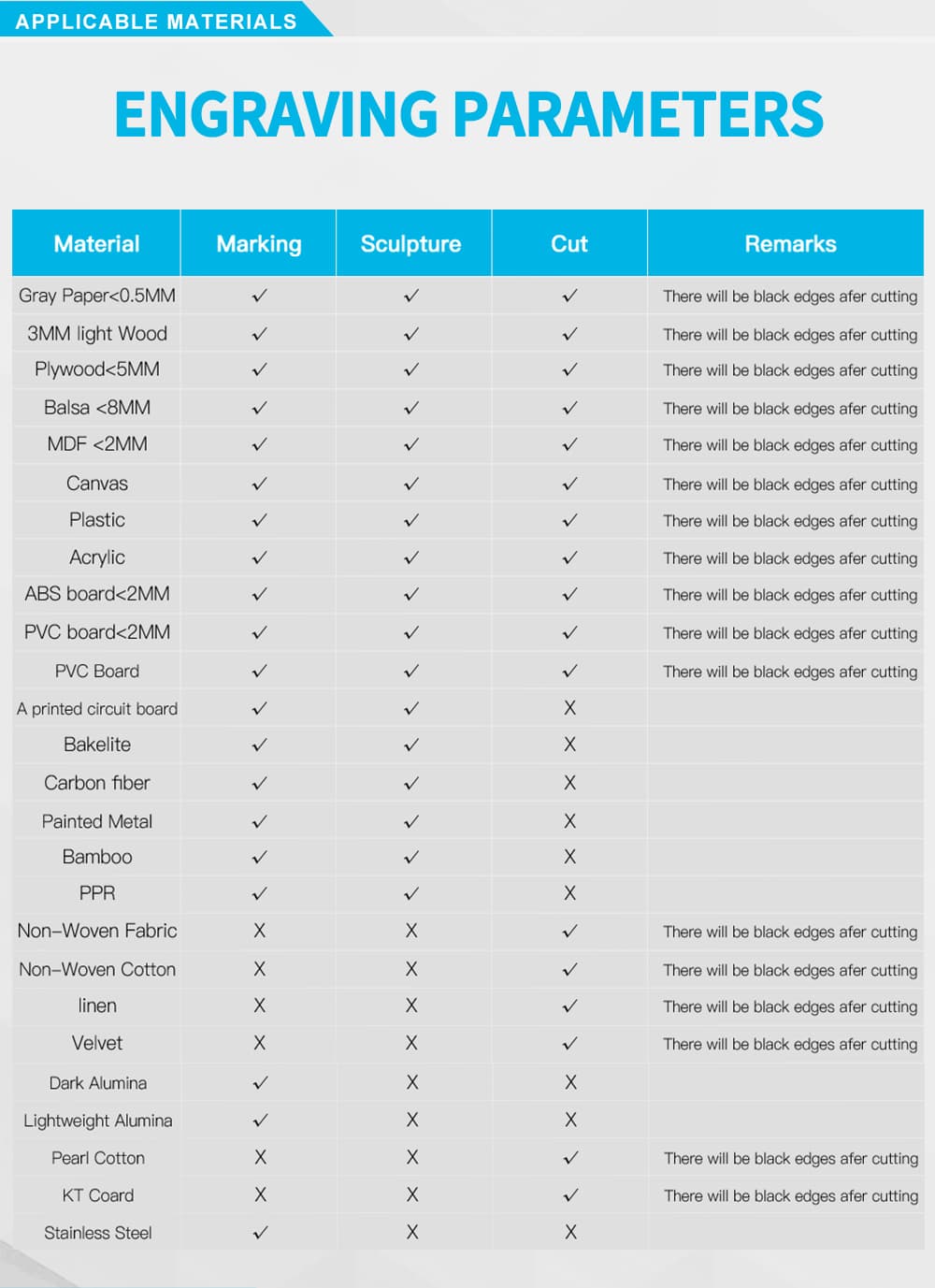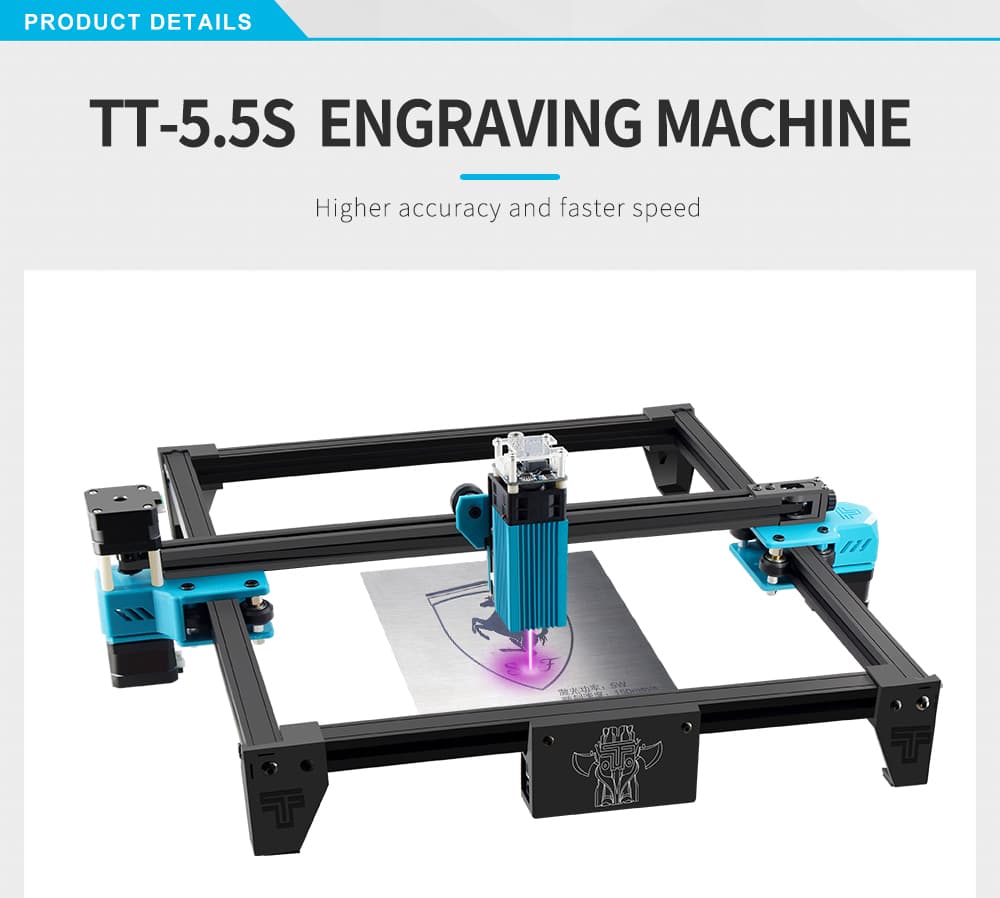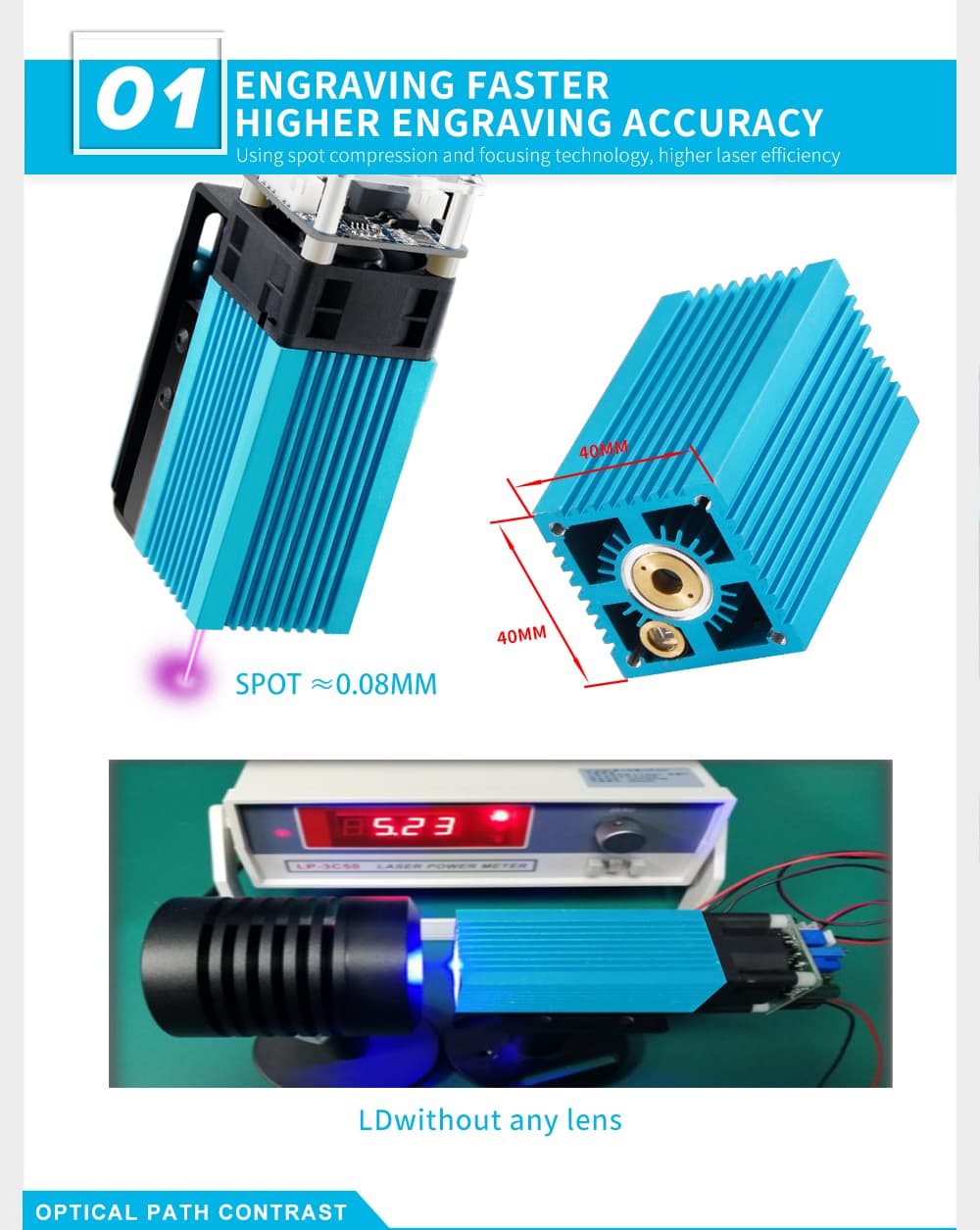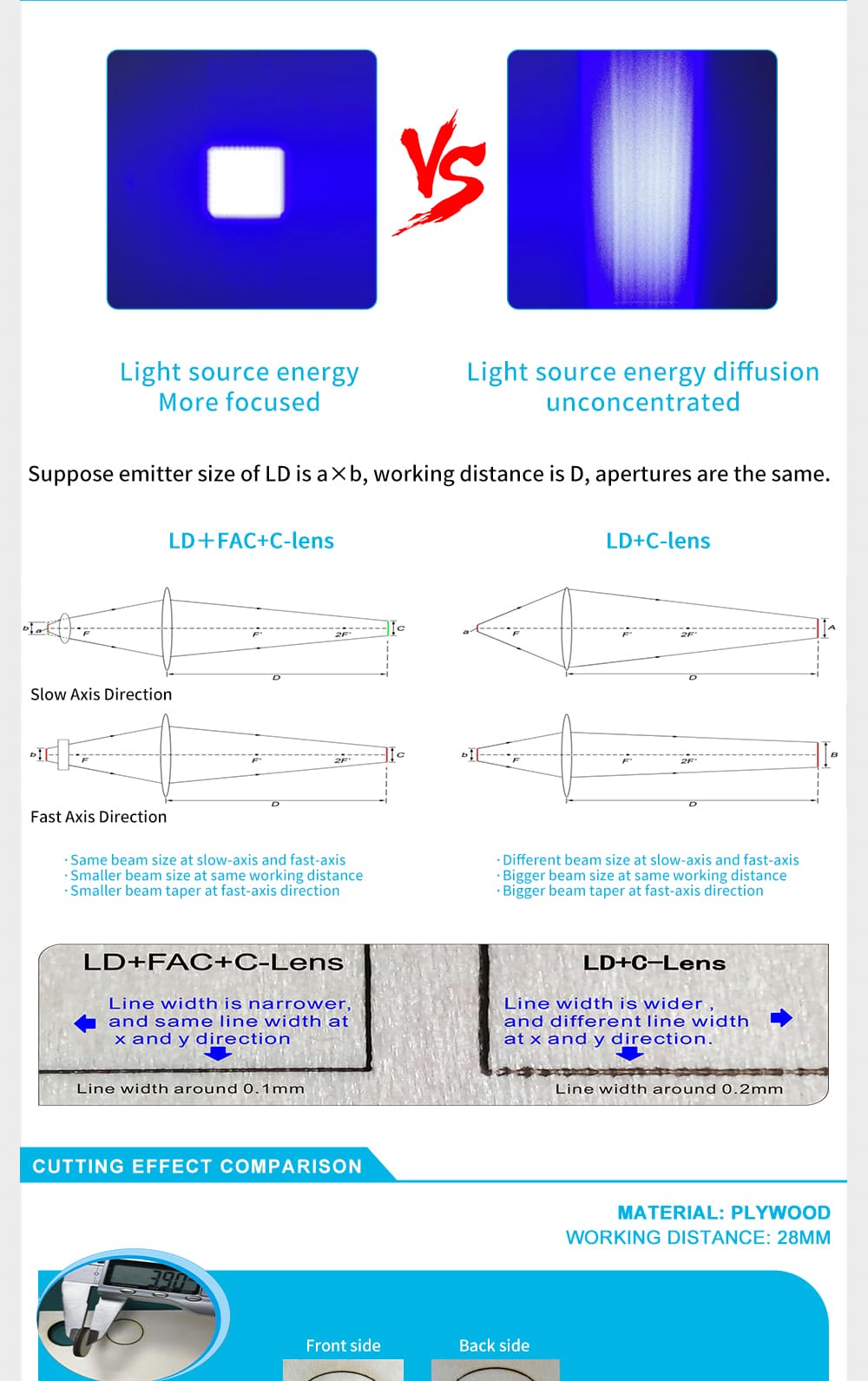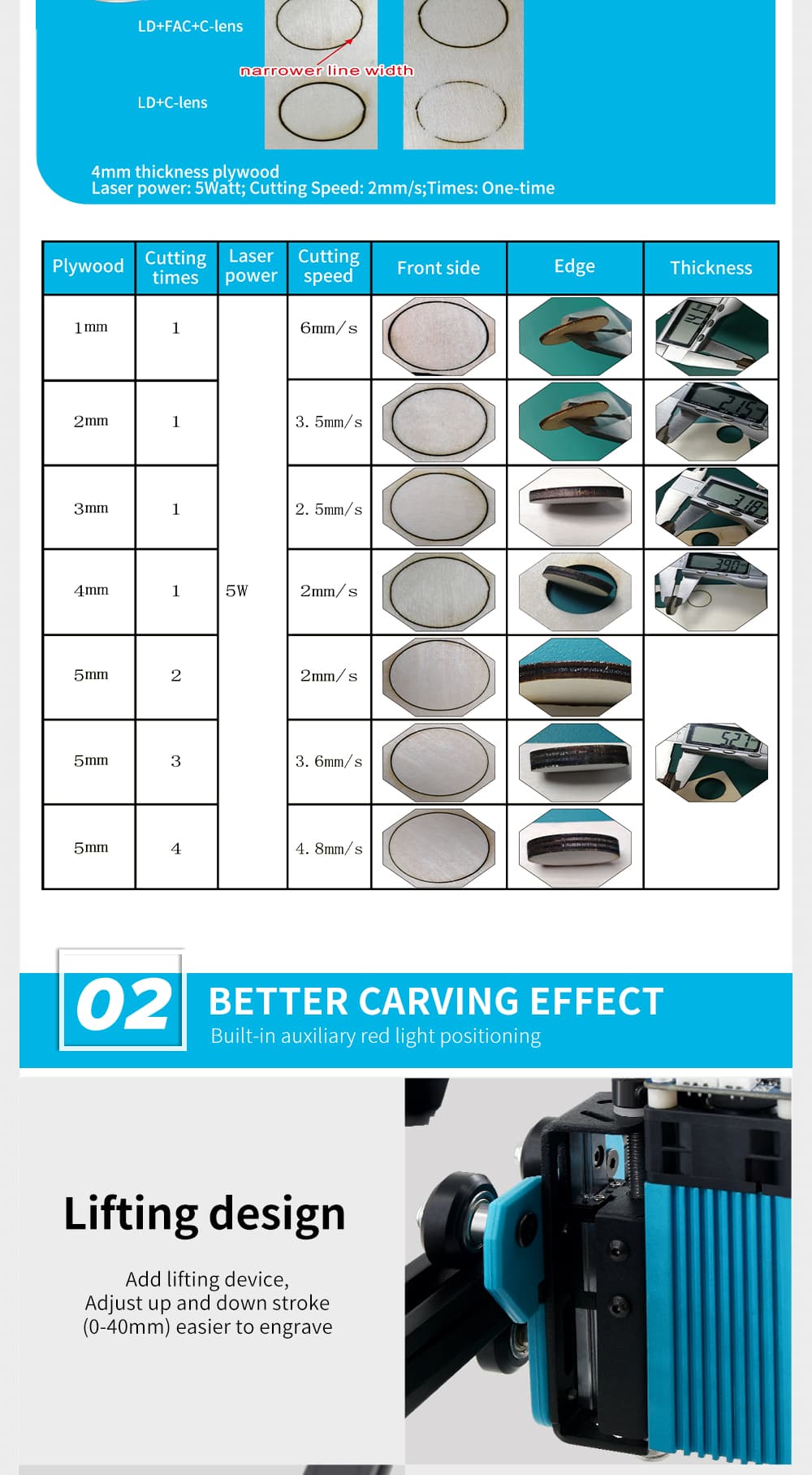 not to good
hi
it´s a okay machine for hobbyist but the moving gantry i heavy (3 stepper and height adj.) so slower engraving to not risk losing steps.
manual says you get 12v 4a power supply mine says 12v 3a (max4a) that´s a new one (steppers are about 1.4A most 5w LD is around 3A so total 4.4a ish)
the X gantry is plastic and not rigid enough (V wheels have to clamp harder and gantry plate can maybe get warped with time)
and excited to see how long laser lasts
customer support is fast but not very usefully
Excelente
Producto excepcional, muy buena calidad y muy buen servicio técnico
Top
Assolutamente eccezzionale
TT-5.5S
I only assembeld It si far and with the video it's fairly easy but se have to go slowly. I think that I'm going to gave fun.
Received earlier than scheduled.
【Direct Shipping】TwoTrees Compressed Laser Engraver TT-5.5S
On the checkout page, the following situations will appear:
1. Standard International: This product is not in stock in the local warehouse and will be shipped from China.
2. Local Delivery: The product is in stock in the local warehouse and will be shipped directly from the local warehouse.
3. Economy International: Accessories and other products will be shipped from China.
Shipping from local warehouses
Shipping to
Shipping time
United States of America
United States
3-7 business days

Germany

All countries belonging to the European Union
3-7 business days
French
Italy
Spain
Poland
Czech
Russian Federation
Russian
3-7 business days
Ukraine
Ukraine
3-7 business days
Turkey
Turkey
3-7 business days
Brazil
Brazil
3-7 business days
China
Most countries in the world
7-15 business days
Most spare parts,filaments and accessories will be shipped from China
25-30 business days
Processing time:Within 3 business days
Orders for 3D printers and laser engravers from the following listed countries would be shipped from overseas warehouses without shipping costs and taxes (fees might be collected for remote areas).
All EU countries: Spain, France, Germany, Czech Republic, Poland, Italy, etc.
United States of America
Brazil
Turkey
Russia
Ukraine
Please note: in case your ordered machines are out of stock in overseas warehouses, we would ship goods directly from China. You might need to pay taxes and assist the shipping company with customs clearance.  We would contact you via email in such cases before shipping.
Orders for accessories from all counties are shipped from China and customers might need to bear the shipping costs and tax fees. 
Materials test
Device & Material
TT-5.5S
Specification
Testing Type

Rated Power: 5.5W

Tested Power: 4.98W

Plywood (1MM)
Engraving
2000mm/min 30%
Cutting
400~500mm/min 100%
Plywood (2MM)
Engraving
2000mm/min 30%
Cutting
300~400mm/min 100%
Plywood (3MM)
Engraving
2000mm/min 30%
Cutting
200~300mm/min 100%
Plywood (4MM)
Engraving
2000mm/min 30%
Cutting
100~150mm/min 100%
Plywood (5MM)
Engraving
2000mm/min 30%
Cutting
100mm/min 100% *2
Plywood (8MM)
Engraving
2000mm/min 30%
Cutting
X
Acrylic Sheet (1MM)
Engraving
6000mm/min 20%
Cutting
100~200mm/min 100%
Acrylic Sheet (2MM)
Engraving
6000mm/min 20%
Cutting
100~150mm/min 100%
Acrylic Sheet (3MM)
Engraving
6000mm/min 20%
Cutting
150mm/min 100% *2
Pine Board 7.0mm
Engraving
2000mm/min 40%
Cutting
100mm/min 100% *2
Pine Board 9.0mm
Engraving
2000mm/min 40%
Cutting
X
Paper 0.1mm (Darker Color)
Engraving
6000mm/min 45%
Cutting
4000mm/min 100%
Paper 0.3mm (Darker Color)
Engraving
4000mm/min 80%
Cutting
1500-2000mm/min 100%
250g/sq.m Kraft Paper
Engraving
4000mm/min 80%
Cutting
1500-2000mm/min 100%
3mm Cardboard
Engraving
6000mm/min 80%
Cutting
300-400mm/min 100%
Leather 0.7MM
Engraving
6000mm/min 80%
Cutting
700mm/min 100%
Non-woven Fabric (0.5mm, darker color)
Engraving
6000mm/min 60%
Cutting
2000-3000mm/min 100%
Dust-free Cloth (white)
Engraving
X
Cutting
50-100mm/min 100%
Gauze
Engraving
X
Cutting
300mm/min 100%
Plastic Plates (In darker color)
Engraving
6000mm/min 70%
Cutting
X
Acrylic 5mm
Engraving
6000mm/min 20%
Cutting
X
Tinned Wire
Engraving
X
Cutting
X
Cobblestone
Engraving
3000mm/min 100%
Cutting
X
Ceramics
Engraving
X
Cutting
X
Coated Metal
Engraving
5000mm/min 50%
Cutting
X
Electroplated Metal
Engraving
300mm/min 100%
Cutting
X
Anodized Aluminum
Engraving
4000mm/min 60%
Cutting
X
Stainless Steel
Engraving
1500mm/min 100%
Cutting
X
MDF 3mm
Engraving
5000mm/min 40%
Cutting
X
Paper Angle Bead 5mm
Engraving
4000mm/min 80%
Cutting
X
Specifications
| Model number | TT-5.5s |
| --- | --- |
| Type | Laser Engraving |
| Material | Aluminum + Plastic |
| Control board | MKS LKS |
| Laser wavelength | 450nm |
| Laser power | 5500mW (LD+FAC) |
| Engraving Size | 300*300mm |
| Laser input | AC100-240V |
| Power supply | 12V 4A DC |
| Plug | USA / EU / UK / AU Plug (optional) |
| Accuracy | 0.08mm |
| Engraving speed | 8000mm/min |
| Carving method | Computer Online Operation |
| Interface | USB |
| File format | .nc / .dxf / .bmp / .jpg / .png etc. |
| Engraving mode | image / text / scanning / outlining / pixel engraving, etc. |
| Support software | Laser GRBL/LIGHTBURN |
| Support System | Windows/Mac |
| Continuous working time | ≤6Hrs |
| Machine Size | L570*W485*H170MM |
TF Card Files: Download (User manual, installation video,softwares and other required files are all included in the profile.)
Assembly video